Ski-Areas > Northern Alps > Savoie (73) > Tarentaise > Val d'Isère > Restaurant Guide
Val d'Isère has developed enormously from its intial roots. Today it has 27,000 beds and one of the most modern lift installations in the world. After some architectural mistakes the resort has rediscovered its Savoyard roots with buildings now faced and roofed with stone quarried in the Manchet valley. The resort has a distinctly Anglo-Saxon feel and many British and North Americans have made it their permanent home. It also has excellent clothes shops and restaurants. We were staying in the hotel Lauzes (Tel 04 79 06 04 20) near the church. A comfortable Bed and Breakfast style hotel with very helpful staff. However this meant we had to forage for our own food in the evenings. The first night we tried the 1789, a restaurant in a side passage just off the main street. We ate a Savoyard fondu for two and a bottle of Apremont. I thought this restaurant was a bit stark, but Geraldine liked the romantic candles on the table and the open fire where they pre-heated the fondus. On Sunday it was beginning to get a bit busier, this was early January but many British forces and student teams traditionally take advantage of the low season prices. We had to wait a few minutes to be seated at the 3 Bises. Noisy and smelly but the food, I had Crozet and wine from Chignin, was excellent and good value. Next day we were quite tired, the mountain air and exercise had gotten to us so we just went across the road to the Casa Scara, an Italian restaurant, stylish with lots of photos of old ski champions on the walls.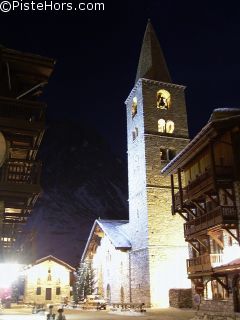 Val d'Isère Church
We got our second wind on Tuesday and made it as far as the Bar Jacques. This seemed to be a husband and wife affair. Monsieur rested behind the bar and poured drinks while whom we supposed to be Madame, a buxom blonde rushed about having trouble with the orders. "But you did order this, now you must eat!" she would insist to some bemused guests. There was a bust up on one table, Monsieur kept his head down until, after some arguments he stepped in. "Your fired!", he told the blonde, "take your stuff and clear out and don't darken my doorstep again!". It was like a scene out of Ian Beale's caf in East Enders1. He then turned to the table "I'm very sorry, you just can't get staff these days, now let me sort your order out". Everyone seemed to be happy, certainly our food was great but we felt sorry for blondy, maybe if Monsieur had helped out a bit she wouldn't have had so many problems? We worried for her, she probably had a little cuddly St Bernard puppy dog at home that would now go hungry and they would end up on the street huddled in a sleeping bag pan-handling for the odd centime. We needn't have worried, next night she was back at the restaurant as if nothing had happened.
To finish off our restaurant tour we can recommend la Corniche, hidden away at the northern end of town behind the church. No trip to Val would be complete without a visit to the Perdrix Blanche (The Ptarmigan) which is known for its excellent seafood. You will have to book for both restaurants, a day or two in advance for the Perdrix even in low season!
Some other recommendations. If you like Alsatian cuisine (think Sauerkraut rather than some exotic Korean dish. then the Taverne d'Alsace is your place. Set in the "keller" under the hotel Kandahar this convincing "Stubl" serves traditionally Germanic style dishes and beers and also features a wine bar. It has a real buzz, even off-season although can be a bit smoky.
For early breakfast or afternoon tiffin the Moris "salon de Thé" is extremely pleasant. It is situated on the main road just down from the Tourist Office.
Other Bars and Restaurants
The Grand Cocor, brasserie at the bottom of the slopes, ideal stop for a Vin Chaud and Chez Boubou, favourite hang-out for the pisteurs. La Fruitière is decorated in the style of an alpine milking palour. Situated on the slopes at 2,300 none-skiers can meet up with their skiing friends using the Daille gondola lift. Reccomended is a dish of Crozet (Savoyard Pasta) a la creme washed down with a glass of the regional white wine, for none-skiers only, of course. The Signal, at the top of the Fornet cable car, has been renovated for 2007. The Tanière, halfway down the legendary Face de Bellevarde run is a good lunch stop for those who prefer to tackle the 1992 Men's downhill course at a more leisurely pace.
Le Savoyard, with its open fire is reputed to be one of the best restaurant in Val d'Isère. Le Table de l'Ours boast a Michelin star for its cuisine and the Grande Ourse in the heart of the village is the place to be seen at midday.
The Pier Paul Jack is one of the in bars at the moment, it can be found in the Hotel Aigle des Nieges. Dicks T-Bar is great for happy hour pints and Henrys Avalanche Talks; Also check out the nearby Café Face and for those who like to boogie, the Graal, another fashionable spot.
1East Enders is a somewhat popular British soap opera set in London's East End.
<< Accomodation | Val d'Isère | Shopping in Val d'Isère >>