Ski-Areas > Northern Alps > Savoie (73) > Maurienne > Bramans > Col du Sommeiller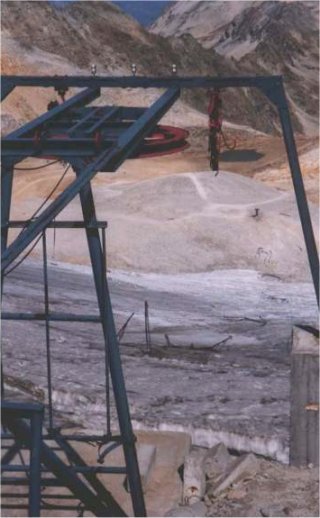 At the start fo the sixties there was a project to build a small summer ski domain on the Col du Sommeiller above Bramans in the Haute Maurienne. Bramans is just after the La Norma turnoff on the road from Modane. The site was leased to an Italian company (VA.RO) and the road was improved and extended from Bardoneccia on the Italian side of the frontier near to the exit from the Fréjus Tunnel. A couple of drag lifts were constructed on the glacier and a dormitory hotel was constructed. An avalanche destroyed this building which was replaced by a prefabricated structure. The retreat of the glacier due to climate change meant that the lifts could no longer be used from the 1980s and VA.RO was liquidated in 1989 - without having cleaned up the site.
The road from the Italian side, at around 3000m, is one of the highest in Europe and is still an attraction for tourists especially motorcyclists.
Mountain Wilderness France and Italy began a clean-up of the structures during the summer of 2002 with the participation of a specialists. However as of 2003 the material had still not been removed from the site.
See Also: Installations on the Col du Sommeiller - link in French with photos.
<< History | Bramans | Off Piste Routes >>