Ski-Areas > Pyrénées > Haute-Garonne (65) > Luchonnais > Peyragudes > Off Piste > Couloir Sans Nom
Well it is only without a name because I couldn't find one on the map! This was a real objet trouvé as Ian should really have skied down to the Flamme chair. Instead he started on the Eperviers piste, a small traverse that opens out onto a black frequently skied into moguls. However rather than follow this piste we traversed almost immediately to the right to follow the contour just below the ridge. Here the obvious descent is the large off-piste down to Palombes Haut blue. However at the top of this slope you find yourself on a saddle (attention cornice). If you ski to the edge of the saddle you can see the Combe de la Flamme below and an inviting wide and steep couloir invites you to join it.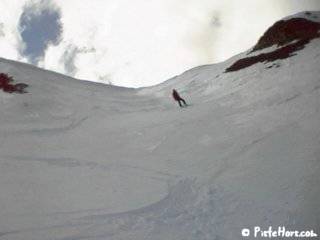 Ian in the Couloir Sans Nom
Given the presences of a small cornice we were a bit dubious about the slope. I told Ian to keep back and wait for me to ski down to a rock outcrop below. I dropped off the edge and made it to safety. I'd figured the sloped was probably safe as it threatened the ski pistes below and would therefore be grenaded by pisteurs. Ian followed me down in 10cm of powder.
<< Peyragudes Off Piste | Peyragudes | Col de la Flamme / Crête de Serias >>