Ski-Areas > Massif Central > Puy de Dôme (63) > Monts d'Auvergne > Le Mont-Dore > Off Piste
Contents
Une Madeleine de Proust
April 1975, with prodigiously snowy winters the French ski industry is in full boom. A Tristar charter flight disgorges its noisy cargo of passengers onto the apron at Clermont-Ferrand. A group of excited school kids, kitted out by their mum's for the artic, board the rickety school bus for le Mont Dore.An hour later they arrive in the old spa town.The bus stops at the small park opposite the ice rink. As they get off they look up the valley. Eyes open wide in wonder, as they are greeted by a tall snowy mountain. The Puy de Sancy.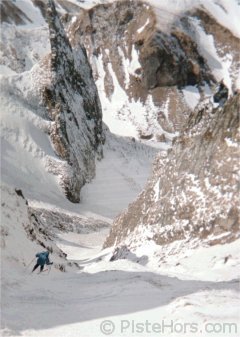 Jean Pierre in the Coulée des Cabines
Exactly 28 years later I'm back in le Mont Dore for the first time since that school trip. The town hasn't changed much, the big hole in the centre is now an underground car-park covered by a small garden. But everything is smaller, like the whole town has been miniaturised. I climb out of the town towards the ski station and through the clouds and mist see the almost forgotten site of the Sancy, rising nearly 600 vertical meters at the head of the valley. This vast and wizened lump of volcanic basalt is still impressive. In 1975 the mountain was forbidden to us, we skied in the snowy little side valleys. Today the seasons are somewhat different, and despite a good winter these are almost devoid of snow. As the clouds clear the mountain glows white, the thin coating of snow that has fallen overnight gives the landscape a wintry look. After the warm spring this is a welcome sight.
Acknowledgements
I am indebted to Jean-Pierre who introduced me to the Sancy Backcountry and to Jean Marc Vigier, instructor and fan of the Mont Dore couloirs who took the trouble to proof read and correct this page.
<< History of Skiing on the Sancy | Le Mont-Dore | Le Mont-Dore Couloirs >>