Ski-Areas > Massif Central > Puy de Dôme (63) > Monts D'Auvergne > Le Mont-Dore > History of Skiing on the Sancy
As with the other French spa towns, Chamonix Mont-Blanc, Megève and Barèges, skiing has a long history in le Mont Dore. A man of the clothe, the abbot at Besse, Jean-Bapitiste Blot, discovered skis on a holiday to the Black Forest in 1897. He thought them a practical means to visit his parishioners in winter. He then set his sights on greater things. On the 20th of February 1905 Blot set out from Besse with a colleague, the Abbot Maurice Guittard. They planned to traverse the extinct Sancy volcano in the Massif Central to reach the village of Le Mont Dore where they would spend the night with another churchman.
Setting out at 11am they crossed the Plaine des Moutons and climbed to the top of the Puy Ferrand where they signalled their arrival to their friend down below in Mont Dore. Crossing the river Dore, part of the source of the mighty Dordogne they reached their destination at 4pm. A large crowd had turned out to greet them; some had travelled from the surrounding towns. They returned via Beaune where they had lunch with the curate. After demonstrating the art of skiing to the villagers they headed for home, arriving after dark at 6pm.
The first ski club was formed in 1907 and in 1936 the flyer, Dieudonné Costes, built a cable car link to one of the needles at that dominates the Val d'Enfer.The cable car, one of the first in France, whisked people to the summit in 5 minutes and could transport 450 people per hour. Today the resort boasts snow canons and 42 kms of pistes served by 20 lifts. There is a link over to Super Besse, although it is not always open. The site has a northern exposure and guards its snow and powder for a long time, the season lasts until the end of April, quite surprising given the low altitude. Fortunately the slopes are quite sheltered from the prevailing westerly winds.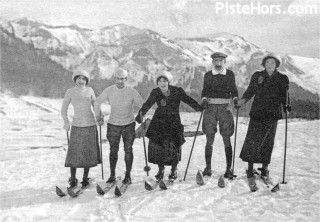 Skiers at Mont Dore in the early 1900s
Unhappy Christmas - The Mont Dore Cable Car Tragedy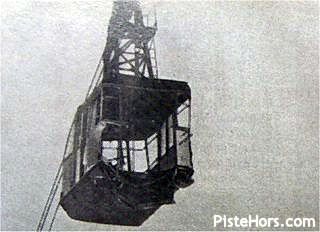 le Mont Dore cable car accident
On Christmas Day, 1965, the Mont Dore cable car was carrying fifty skiers to the summit of the Sancy Mountain. Suddenly, a hundred meters before the car arrived at the top station the power cut. The passengers were thrown forward onto to front which gave way under the shock. Seventeen passengers ejected from the cable car onto the steep rock and snow slopes some twenty meters below, ten of them lived to tell the tale, some without so much as a scratch.
<< | Le Mont-Dore | Le Mont Dore Off Piste >>