Ski-Areas > Massif Central > Loire (42) > Forez > Chalmazel
Contents
Description
The ski resort of Chalmazel is situated in the Forez area of the Loire department in the Massif Central region. The lift served area extends from 1100 metres to 1634 metres, the highest point in the department. The resort has recently added a high speed quad chairlift built by Leitner. To combat the bitterly cold winds each chair is equipped with covers. The resort has eight lifts including a bubble lift and ten pistes with a sole black, le Bambam. There are 12 km of lift served runs, 2.4km of which are covered with snowmaking. The resort has an active and very professional snowpark developed by local enthusiasts - CFC (Chalmazel Freestyle Crew)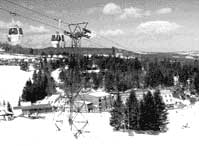 History
The village of Chalmazel is known for its 13th century chateau. The ski resort started in 1965. Since 2003 the Loire General Council has run the whole ski domain and is responsible for investment.
Off Piste Routes
This map shows some of the off-piste possibilities at Chalmazel. Obviously with such a small domain the off-piste is limited. The Combe des Alettes is one of the secret spots.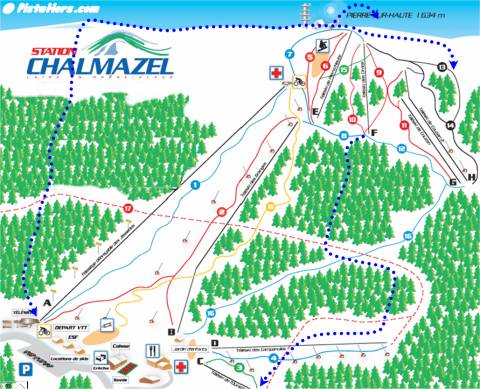 Travel
Nearest Airport(s): Clermont-Ferrand or Saint-Etienne - Bouthéon?
Road: Take the N89 exit from the A72 autoroute between Clermont Ferrand and St Etienne.
Rail: TGV Clermont Ferrand or St Etienne. There is a bus service from St Etienne provided by TVF.
Accomodation
You can include a short description of any accomodation along with a link.
Restaurants and Bars
There are two bars in the town, best one near the chateau also one at the bottom of the lift. There is a resturant in the village and one 300 meters befor the ski area. both serving good french food of the area.
Shopping
We don't all ski 24/7, if there are shops: ski, fashion or bookstores you think people should know about mention them here.
Guides and Instructors
Only include guides and instructors who cater for off-piste or backcountry. Please specify whether they take snowboarders.
Useful Information
webite: http://www.station-chalmazel.com
email: chalmazel@cg42.fr
Category: Ski Areas