Ski-Areas > Northern Alps > Isère (38) > Vercors > Vercors-East-Couloirs > Couloir des Deux Soeurs
This page is just a stub. You can help by expanding it.
The Deux Soeurs (Two Sisters) dominate the ski resort of the Col de l'Arzelier. The big sister is Agatha to the left (2194 meters) the little sister is Sophie to the right (2162 meters). Either can be reached from the col des Deux Soeurs. The couloir is steep (sections around 45°) and exposed. Best skied with powder or spring snow conditions (early to mid morning with its south-east exposure). Any falls will be severly punished by the sisters!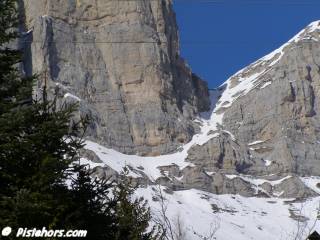 Couloir des Deux Soeurs
Route Card
GPS: N 45.0037° E 05.5772°, 2056 meters (col des Deux Soeurs)
Orientation: South-East
Toponeige Rating: Danger: 4, Climb: PD, Ski: 4.2
Climbing: 1010 meters, 3315 ft.
<< La Grande Moucherolle South? | Vercors-East-Couloirs | Couloirs des Sultanes >>