Ski Areas > Northern Alps > Belledonne > le Fond de France > Col Du Mouchillon north face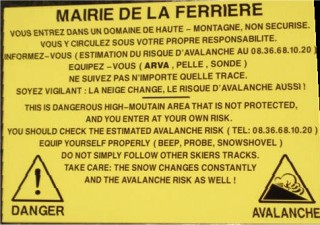 Warning sign at la Martinette
Anny had already been out in the Combe Madame valley this winter and promised us superb snow. We had some designs on the Rocher Blanc north-west Couloirs but a strong-south east wind had blown during the week forming a large cornice at the summit and probably a slab below. A friend, Squal, had taken a look and reported later that he didn't fancy the descent.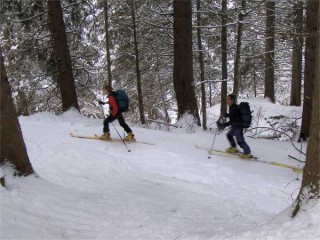 Climbing in the forest
We were out with Anny's husband, Guy and Bernard and Bernadette from across the valley in the Riviers d'Allemont. The car park at la Martinette was full when we arrived. Guy dropped our guy and went lower to find some space on the roadside. The forest path didn't have a lot of snow and at around 1350 meters we had to make a detour. The torrential rains of last summer (August 2005) had caused a landslide blocking the path. The detour wasn't hard and we had heard that some people had made it through - with a few white knuckled moments - on the old track.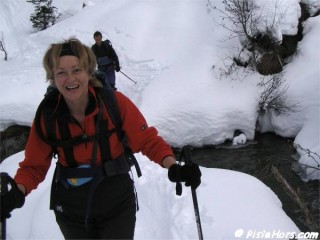 Bernadette on form
The detour passed we could put our skis back on and begin climbing. Well before reaching the Combe Madame refuge around the point where la Plagne Vaumard branches to the north-east you need to be looking to cross the river to the left bank. Not so easy as the running water never seems to freeze and the snow bridges can be precarious.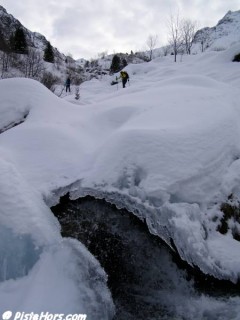 Crossing over a snow bridge
That done it is a case of picking your way through brushwood below the slopes of the Pic Badon and then turning southwards. Here there was a difference of opinion. Anny chose to loose height into the Cul du Pet bowl (bottom fart bowl?!?) whereas Guy and I tracked around the contour on the right bank. All roads lead to Rome. There is then a steepish slope with a few conversion turns up to the Col. The south-east winds had formed some slabby snow below the col.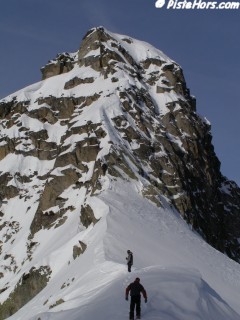 Crete de Mouchillon
The sun was just out on the western side of the col, we picnic'd here but it was pretty chilly. Then the ski back down, a mixture of excellent powder and some more dense snow blasted by the wind. Guy demonstrated his "freerider" style while Bernard tackled the snow in a series of jump turns. I was happy to have my mid-fat Atomic MX9s. Again we took off skis for the landslide. All except for Guy who plunged into the bottom of the valley by the stream. Again we all joined at more or less the same time at the top of the field that leads past the Nalme barns. A last blast of powder skiing to the car-park.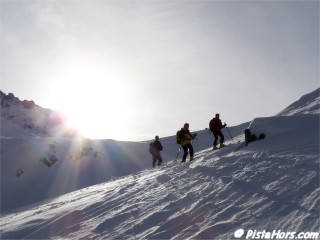 Col de Mouchillon
Route Card
GPS: N 45.2444°, E 06.1258°, Altitude: 2460 meters
Orientation: North-West
Toponeige Rating: Danger: 1, Climb: PD, Ski: 2.2
Climbing: 1370 meters
Date Skied: 8 January 2006
Google-Earth:Rocher-Blanc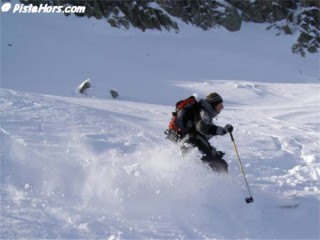 Guy having fun in the powpow
<< Rocher Blanc by the combe Madame | le Fond de France | Pic de la Belle Etoile by the Sept-Laux? >>