Ski Areas > Northern Alps > Belledonne > le Fond de France > Rocher Blanc North West Couloir
The North-West couloir can be found on the right about 50 meters below the summit on the south-west ridge.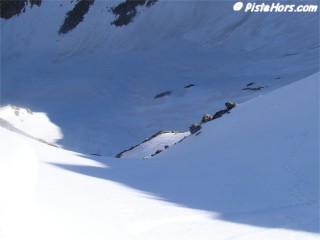 North West Couloir
There is a variant just below the summit on the north-east ridge. This is slightly steeper and more exposed. It is possible to descend the narrow couloir or to ski across to the left (south-west) to join the normal route.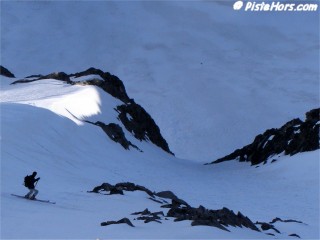 North West Couloir Variant
Both routes conserve powder snow well. There is normally still snow in the couloirs at the start of June but the best period is in the second half of winter when the slopes have enough snow on them but there is still a good chance of finding powder. Due to the north-west aspect the slopes only transform late in the day, if at all, in the spring-time.
Route Card
GPS: 45°14'29.40"N, E 6° 6'27.36"E, Altitude: 2928 meters
Orientation: North-West
Toponeige Rating: Danger: 2, Climb: PD, Ski: 4.2
Climbing: 1800 meters, 5905 ft.
42° over 200 meters, short passage of 47° near top (variant)
Google-Earth:Rocher-Blanc
<< Rocher Badon by the combe Madame | le Fond de France | Rocher Blanc by the combe Madame >>