Ski Areas > Northern Alps > Belledonne > le Fond de France > Col De La Croix West Side
Follow the route as Col de la Combe Madame North Side then at 2200 meters continue slightly to the left but generally eastwards to reach the col. The final slope is 30° over 300 meters with some very short sections at 35-40°.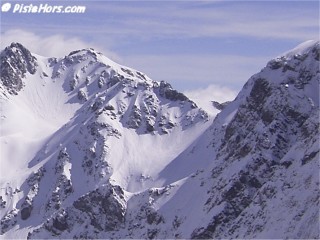 Col de la Croix from the Rocher Blanc
The south-west facing slopes of the Combe-Madame are prone to purging snow in the spring in the afternoon and some very large slides can descend the many valleys. The final slope to the Col de la Croix should also be treated with care during the winter if there have been easterly winds.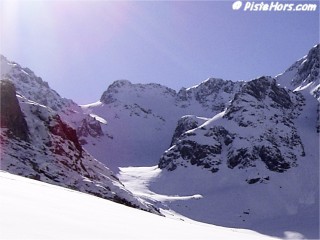 Col de la Croix
Description
Add a general description here
| | |
| --- | --- |
| Mountain Range | Belledonne |
| Summit | Col de la Croix |
| Altitude | 2529meters |
| Orientation | West |
| Starting Altitude | 1100 meters |
| Vertical | 1430 meters |
| Maps | Carte IGN TOP 25 3335 ET |
| GPS Waypoint | N:45.15477° E:6.08342° |
| GPS Route | Google-Earth:Rocher-Blanc |
| Grade[1] | Danger: 1, Climb: PD, Ski: 2.2 |
| Comments | 30° over 300 meters - source IGN 1:25000 map |
| Snowboarders | The valley is a bit flat and the forest track is narrow |
| Equipment | Ski crampons for the last slope to the col |
| Road Access | le Fond de France |
| Refuges | Combe Madame Refuge |
| Author | davidof 04 May 2001 |
Comments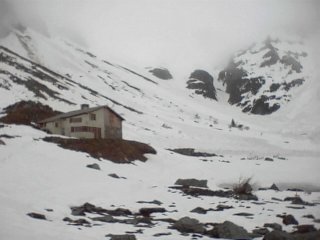 Combe Madame Refuge
I'd spent the last couple of days trapped in the valley in my house. The weather was foul and after a miserable climb to the Croix de Belledone I'd not felt much like going out. Well it had given me a time to catch up on some reading. Grange's Rivieres Pourpres had kept me gripped but now I was getting restless. I listened to the weather forecast, no change, rain rain rain. But they'd said that every day and most mornings it had been fine if cloudy. I decided to make an effort tomorrow. Get an early start and see what happens. I'd wanted to complete the other big summit of the Belledonne, the Rocher Blanc at the northern end. Some 1800 meters of climbing but I felt on form.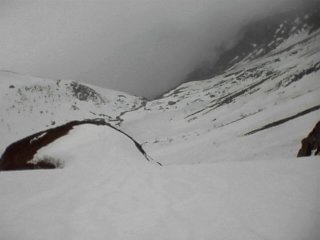 La Combe Madame
The morning was clear but damp. I drove to la Martinette and arrived around 7am. From here it would be a walk most of the way to the refuge of Coombe Madame. A big old-English sheep dog followed me until the path got steep and slippery. Climbing was not that difficult except for the trails of several avalanches that had crashed down from the couloirs on the right bank earlier in the season. About a 100 meters below the refuge I put my skis and skins on. The refuge was unguarded but open. It is a large and pleasant building and had a dozen bunks with mattresses and even some firewood. I stopped to warm up, it was raining lightly and the visibility higher up did not look good. Maybe it would be clearer higher up. I decided to put a brew on and brows the visitor's book.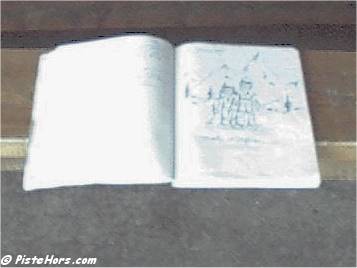 Alive
| | |
| --- | --- |
| a lire 17h14 22/1/2001 Je suis vivant! | Read This 5.14pm 22/1/2001 Alive! |
| En redescendant de Bec d'Arguille Zouf et moi a 500 m. de distance de Refuge alors que on venait de faire une excellent descente une superbe neige poudreuse, un risque très fort d'avalanche aux dires deux groupes de deux personnes que nous avons croises a la montée. Mais bon comme d'habitude nous deux sure de nous, Fiers, nous voulions faire cette course. Tout aller pour le mieux comme je vous disais au dessous on arrivant au refuge donc, quand une terrible sensation se passa !?! J'état debout sur mes skis légèrement plus bas que mon ami Zouf quand soudain je m'efonca. Je n'ai pas compris tout de suite c'est quand mon copain Zouf me cria "nage! nage!" l'avalanche du "plaques" me coucha tout tranquillement sans bruit mais avec une telle force que même David Douillet n'aurait pas résiste et elle continua sa course bien sure j'usqu'aux épaules. Par miracle l'avalanche s'arrêta d'elle même. Une expérience terrifiante que je voudrais pas revivre. Nous sommes tout petit et nous resterons tout petit devant cette montagne magnifique mais qui peut aussi emporte nos enfants: alors restons humble devant la nature, respectons la! En tout cas je redescendre avec un ski casse mais avec une expérience que je ne suis pas prêt a oublier. anon - refuge de Combe Madame 22/1/2001 | Coming down from the Bec d'Arguille, Zouf and I were 500 meters from the refuge having had an excellent descent in superb powder snow. A very high avalanche risk, according to two groups of two people we crossed when we were climbing. But whatever, as normal we were sure of ourselves, proud, we wanted to do this route. Everything was going fine as I said until we got to the refuge when I felt a terrible sensation!?! I was on my skis just a bit lower than my mate Zouf when suddenly I started to move. I didn't understand immediately when my friend Zouf shouted "swim! swim!". A plaque avalanche had taken me very gently and without a sound but with a force that even David Douillet (French Judo Champion) could not resist and it continued on its course to cliffs. By a miracle it stopped by itself. A terrifying experience that I don't want to relive. We are insignificant and remain insignificant before this magnificent mountain that can also take our children: so stay humble before nature, repect her. In any event I descended with a broken ski and an experience that I'm not about to forget. Anonymous, written in the visiting book of the Combe Madame refuge 22/1/2001 |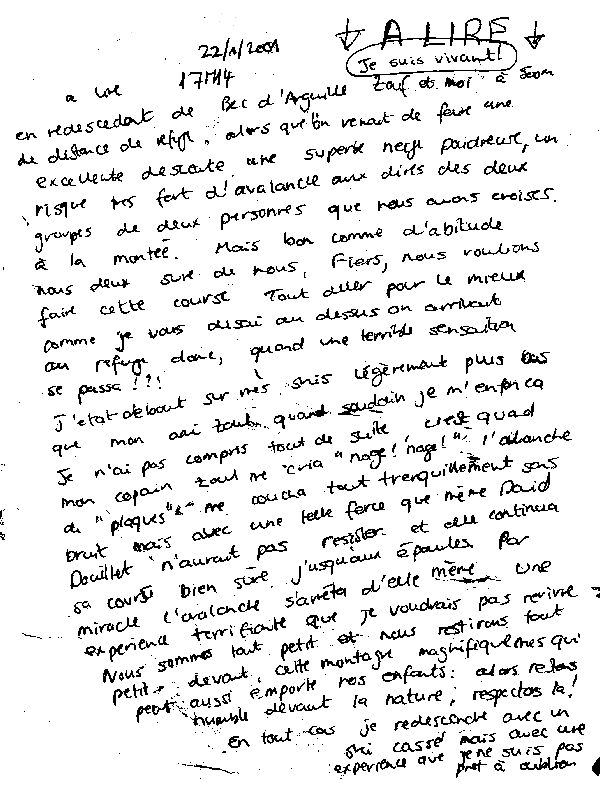 Navigating up to the Col was by compass and nose. The visibility steadily dropped to zero and I was only able to ski back down by following my tracks with my nose to the ground like a bloodhound. Still it beats sitting watching TV - or so they say.
Contributed by davidof on the 04 May 2001
<< Col de la Combe Madame north side | le Fond de France | Col du Tepey via la Plagne Vaumard >>