Ski Areas > Northern Alps > Belledonne > le Fond de France > Col de la Combe Madame - north side
The Col de la Combe Madame is a good consolation prize on bad weather days when the Rocher Blanc is shrouded in clouds. As such it is not often climbed or it is simply traversed on the way to somewhere else, the Tour of the Aiguilles d'Argentiere for example.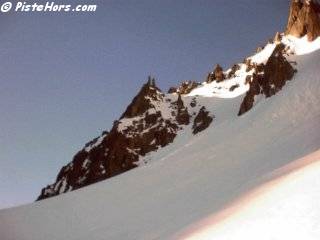 The Donkey's Ears (Les oreilles d'âne)
From la Martinette follow the forest trail to the combe Madame. At 1430 meters you pass by the Premiere Chalet (N 45.2713°, E 06.0959°) in a clearing in the woods. This could be used as a bivouac in a push. You leave the forest at 1700m and climb a short but relatively steep slope to the Combe Madame Refuge. Continuing south-eastwards you traverse a flat valley on the right bank towards the gorge de Marmottane at 1900 meters. The easiest way around this obstacle is to climb the slope to your left and traverse around the top. However beware that all the south and east facing slopes in this valley are prone to avalanches, especially in the spring. At 2200 meters turn to the south west under the col de la Croix. The valley has a couple of steeper slopes. The col de la Combe Madame is straight ahead and marked by a large cairn. Descend by the same route, in later spring it might be worth keeping to the left bank of the combe Madame river after the refuge to keep snow to around 1650 meters in May – however check for a crossing point as the river can be hard to cross in spait.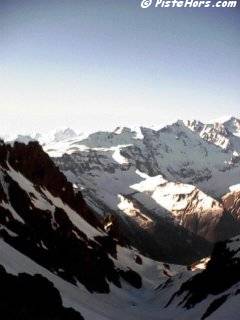 Col de la Combe Madame towards the Rieu Claret
Route Card
GPS: N 45.2444°, E 06.1258°, Altitude: 2641 meters
Orientation: North-East then North-West
Toponeige Rating: Danger: 1, Climb: R, Ski: 2.1
Climbing: 1540 meters, 5050 ft.
Date Skied: 20/05/2002
<< | le Fond de France | Col de la Croix west side >>