Ski-Areas > Northern Alps > Isère (38) > Chartreuse > Col de Porte > Charmant Som from les Cottaves
Description
From the Cottaves (try not to park in the village it annoys the locals) follow the track marked Charmant Som in front of a house. The path heads up into the woods to the left with some cliff bands to your right. When you reach the small col (open prairies) of Maubouchet head right to follow a track that leads up to another clearing. Attention this zone is avalanche prone. The woods thin out at the top of this clearing and the slope is gentler. Head north (cliff bands on left this time) to the summit which is usually marked by a cross.
From the col de Maubouchet plunge into a north-east facing couloir to take slopes dominated by some fantastic cliffs. The landscape is really awesome. This is a good plan when the snow cover in the forest is poor (toponeige rating 3.1)
A hundred meters before the forest cabin (1250m) climb the cliffs through a mound for 20 minutes then plunge into a wonderful forest of pine trees that take you all the way to the Cottaves.
| | |
| --- | --- |
| Mountain Range | Chartreuse |
| Summit | Charmant Som |
| Altitude | 1867m |
| Orientation | North-East |
| Starting Altitude | 1080m |
| Vertical | 787 m |
| Maps | IGN TOP 25 3334 OT Chartreuse Sud |
| GPS Waypoint | N 45.3252°, E 05.7641° |
| GPS Route | Google-Earth:Charmant-Som |
| Grade[1] | Danger: 1, Climb: PD-, Ski: 2.1 |
| Comments | forest skiing, attention branches and roots |
| Snowboarders | Yes but the forest tracks are narrow |
| Road Access | Grenoble -> Col du Porte -> les Cottaves (1st road on left after Col) |
| Author | davidof |
Trip Reports
27th December 2007
Part of loop with Charmant-Som-North-west-Couloir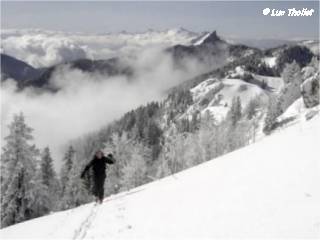 South slopes of the Charmant Som
Weather : Cloudy in morning, sun later
Avalanche Risk: Low (1/5)
Participants: Luc, David
Snow line: 1080m
Video Charmant Som - google video
17th December 2005
Rotten weather but good to get out, blue skies appeared on the descent, superb. We skied the north-east slopes under the Maubouchet. Excellent. Some large slabs had slid under the cliffs. This variation gives some good skiable snow to Revol, afterwards you have to take the road to Cottaves. (see variation above)
Weather : Cloudy in morning, sun later
Avalanche Risk: Low (1/5)
Participants: Luc, David
Snow line: 1300m
10th April 2004
After having made a U-turn on the Merlet at 1450 meters yesterday due to 80cm of fresh snow we decided to head to the Chartreuse this morning. No tracks, 50cm of powder from the car-park. The climb was fairly tough for those that made tracks – Lil' Seb, Cyrl, Guillaume, Me and one of the chicks.
No base below 1600 m but enough fresh snow to ski directly through the trees on the stream bed. The slope was 35-40 degrees at some points, right to the car park without ruining the skis.
Weather : Snow, Cloud at the summit + strong wind from east
Avalanche Risk: Considerable (3/5)
Participants: David, Cyril, Renaud, p'tit Seb, Grand Seb, Manue, Lolo, Caty, Marco, Cédric, Guillaume
Snow line: 1300m
Category: Trip Reports
<< Col de Porte off-piste | Col de Porte | Charmant Som north-west couloir >>