Ski-Areas > Northern Alps > Isère (38) > Belledonne > Chamrousse > Off Piste
Contents
General Description
Although this was the closest ski resort to my old home in Grenoble I came here rarely. Memories of frozen pistes, cloudy weather and traffic jams on the road up to Uriage meant that I favoured either the nearby les Sept Laux or sunny l'Alpe d'Huez. But I was back for the afternoon with the intention of climbing up to the Vans, the classic opener for any Grenoblois winter ski touring season.
The resort did not look good when I got there. It was Christmas Eve (2002), a couple of cars in the parking and very green pistes. The girl in the ticket office looked very dubious when I explained that I wanted a lift pass for the whole afternoon. In keeping with its 'social traditions' Chamrousse has a very flexible lift pass system. For the lazy backcountry skier you can buy a single ride to the summit, otherwise an automated card system lets you ski by the hour and if you get fed up you can either conserve your ski time for the next trip or get a refund.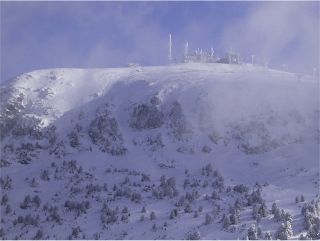 Couloirs des Croissants
The lift served off piste is a bit limited. There are the narrow Couloirs des Croissants that descend to the right of the cable car from the summit. Be very careful in poor visibility as the entrances are hard to find, there have been serious accidents ehre. The bowl and slopes down to the Lac Archard provides a wide choice of routes. Unless you traverse on a narrow path through the trees you eventually end up on the cross country ski pistes at Arselle where you either take the ski bus (attention last bus around 16h00) or hitch.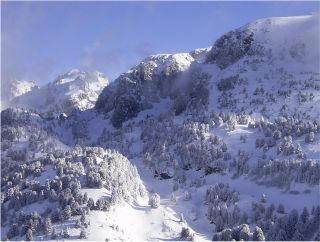 Couloir de Casserousse
You can ski besides the piste at the Lacs Roberts sector and the Couloir de Casserousse offers a steep and exciting black run. Towards the station there are numerous descents in the Recoin and Roche Béranger sectors between the pines. Perfect in poor visibility but watch out for cliffs.
Casse Rousse north-east couloir
From the top of the Casse Rousse piste traverse across the summit of the Casse Rousse towards point 2225 meters, continue north to find an enclosed couloir that descends to the lacs Robert.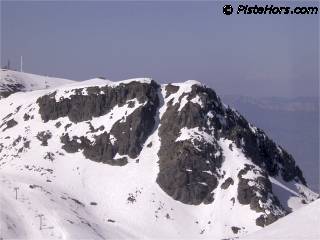 Casse Rousse north-east couloir
<< Chamrousse Ski History | Chamrousse | Travel >>