Ski-Areas > Northern Alps > Isère (38) > Oisans > l'Alpe d'Huez > Off Piste > Alpe Huez West Face Of The Pyramide
Description
This is something of a classic off-piste in the resort and is heavily tracked, especially in spring. From the col de la Pyramide at 3351 meters there is over 2km of descent down to the lifts at la Villette when the conditions are right. The slope is of a uniform steepness which can overwhelming for some, reassuring for others. There is an average 35° gradient over the first 300 meters of drop, similar to the Tunnel black piste. This means there is both a danger from slipping when the conditions are icy, for example, early in the day on this west facing slope and from avalanches when there is new or blown snow coupled with winds from the east quadrant.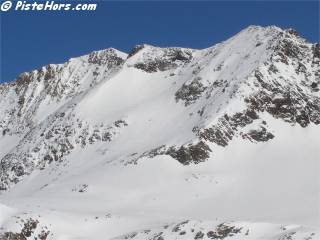 La Pyramide, west face, from the Dôme des Rousses
The west face of the Pyramide can be reccied from the top of the Dôme des Rousses cable car. From the summit of the Pic du Lac Blanc (Pic Blanc) take the start of the piste then duck under the protection netting to the left. From here you can see the Pyramide and the Pic Bayle behind to the right. Follow the contour past the col de Milleu to the left then climb, either on skins or on foot towards the Pic Bayle up a gentle slope before turning west to the col de la Pyramide.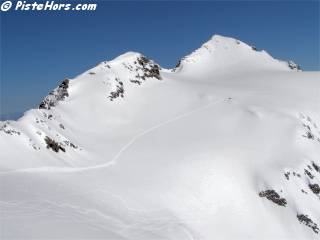 La Pyramide centre, Pic Blanc left
The first 30 meters of the run are steep and narrow. The slope opens up into a bowl, follow this round to the right then back to the left to avoid some cliffs. The slope flattens out at this point. From this point it is possible to follow one of the Dôme des Rousses routes in particular the Fare Couloirs or Perrins south entrance. Otherwise the col du Couard is accessible to the north by traversing under the Pic Bayle then following the slopes of the Plan des Cavalles. The slopes above the col du Couard are south to south-west facing and should be avoided in the afternoon.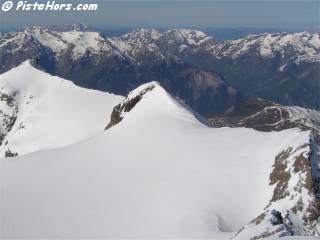 La Pyramide centre, Pic Blanc right
| | |
| --- | --- |
| Mountain Range | Grandes Rousses |
| Summit | Pic de la Pyramide |
| Altitude | 3382 meters |
| Orientation | West |
| Maps | IGN TOP 25 3335 ET Le Bourg d'Oisans - l'Alpe d'Huez |
| GPS Waypoint | N 45.1347°, E 06.1317° (3350 meters) col de la Pyramide |
| GPS Route | Google-Earth: |
| Grade[1] | Danger: 2, Climb: n/a, Ski: 3.2 |
| Comments | 35° over 300 meters |
| Snowboarders | The col du Couard has a long flat traverse |
| Equipment | A short rope for the first section under the col |
| Guide Books | l'Alpe d'Huez Off Piste - Francis GINET and Fabrice VILLARET, Vamos |
| Author | davidof |
Comments
Add information about any outing here, include your name and the date of the outing
Contributed by _ on the _
<< l'Impossible | l'Alpe d'Huez Off Piste | Col de l'Herpie >>