Ski-Areas > Southern Alps > Hautes-Alpes (05) > Oisans > La Grave > Off Piste > Trifides Couloirs
The Trifides couloir complex is one of the easiest to reach from the lift system and it is possibly for this reason that it has been the scene of a number of dramas over the years. To reach them either traverse across the Glacier du Vallon or take the Trifides drag lift. At the top of the drag descend the super-trifides' couloir. There a are four couloirs, from right to left looking down the mountains these are the 'S', middle, grand and épaule, sometimes numbered 3,2,1,0. The Grand is the easiest, the S and middle are exposed.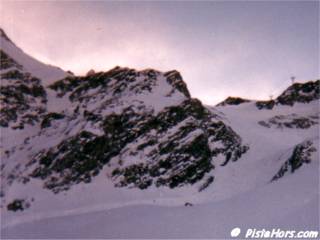 Trifides Grand couloir to the left
Further up from the Trifides drag is the Brèche de la Girosse (3406 meters) this leads down to the aptly named Glacier du Râteau (se prendre un râteau is a French expression meaning: to fall badly, an ever present risk on these routes) . By climbing just above this gap you can reach the north-east couloir and Pan de Rideau. The slopes are steep, around 45° to 55° in the north-east couloir and exposed to crevasses (rimaye) and séracs.All of these runs lead back into the Vallons itinerary.
<< La Grave Off Piste | La Grave | Freaux Couloir >>