Gear > Ski > Ski Touring > Touring Boots > Lowa Struktura
This is just stub, you can help by expanding it.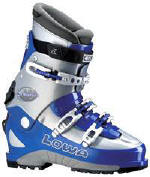 The Lowa Struktura is a fairly all-around AT boot, available at a reasonable price (here in Poland anyways). It has a fairly beefy plastic shell and a comfortable inner liner. This boot is designed to be an all-around performer, on and off piste and in the backcountry. Thus:
Outer Shell
For a touring boot the shell is fairly stiff, with three solid, plastic-coated aluminum buckles. The two lower-part buckles have the movable arms on the inner side of the boot, whereas the upper buckle is flipped around, and snaps shut on the outer side of the boot. The plastic tongue is made of three pieces, the lower and middle pieces are hinged on rivets, and the bottom piece has a plastic loop which attaches to a tang on the boot shell. Contrast with Scarpa boots, which have a flexible, "accordeon-folded" plastic tongue. The upper part of the tongue is a moulded rubber cuff. There is a "walk-ski" lever in the back of the boot, and the cuff pivots on the lower via a flat screw. A velcro strap is attached to the upper. The traction sole is made of "Skywalk" rubber, which is also found on other boots, although less frequently than "Vibram".
Inner Boot
The inner boot is a lace-up type design (vs. the more modern types, which lack lacing). Inside it is well padded and comfortable, with a strong non-abarading outside. In portions, especially the tongue and ankles are stiffened with additional plastic.
Overall
The boot is stiff for an AT design, but softer than any reasonably serious Alpine boot. It is also a bit soft for hard-core freeriding (see Lowa Struktura Pro). I found that on a groomed and iced over slope it gave me adequate edge control, although I am by no means a racing demon and my requirements in this respect are not that demanding. These boots are excellent in deep snow and ungroomed hardpack. I have used them with Swiss military bindings (Ciemme, the ones that look like the front of a Steyer-Puch truck) and with the Naxo NX21 AT/FR binding. Both bindings were easily adjusted to fit the boots. My one beef with them is that the pivot connecting the cuff with the lower part tends to dig a bit at the ankle, which on a long slog may be uncomfortable. The walk-ski switch doesn't do a whole lot, and I've skied some steep slopes while blissfully unaware that I'd forgotten to switch from walk to ski. These beefs aside, the base Lowa Struktura boot is a very decent AT boot, which will fit the needs of any tourer other than those doing really extreme slogging (too heavy) or hardcore freeriding (too soft and too low). According to the Lowa website, the boots weigh 8.00lbs per pair (US size 9). I wear US size 10.5's, and they feel a fair bit heavier.
Caveat Emptor: Lowa boots in general fit small. This means that if I normally wear 27.5 ski boots, I need to put on ones sized 28-28.5 from Lowa. Also, these boots generally fit people with narrow to moderately wide feet. "Duckfooted" folks will find these boots a tad tight.
For a recommendation: due to their all around nature, the upper end Struktura models are the boot of choice for the TOPR, the Polish volunteer mountain rescue teams who have to ski in all manner of conditions and weather.
<< Garmont She Ride G-Fit | Touring Boots | Lowa Struktura Light >>
---