Gear > Ski > Backcountry Freestyle >K2 Seth Vicious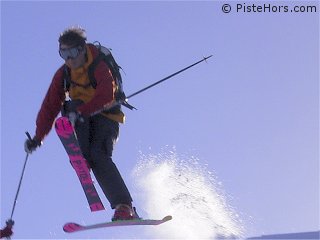 The famous Seth Pistol has turned into the Seth Vicious for the 2005/2006 season. Seth Morrison's hommage to punk skiing and Sid Viscous has gained surface area at the front end and underfoot but at the back things remain the same. In a session in the resort of Le Lioran the skis took all we could throw at them, in some very mediocre conditions however the Pistol always needed a firm hand from a strong skier. The Vicious has a new progressive sidecut which makes turn initiation faster without overpowering the rider, a feature of fat skis with deep sidecuts.
Although an expert level ski keeping the tail thin makes for easier release in the crud and powder and makes the ski much more manouverable on piste however the ski is still a bit of a barge on groomed runs, is slow edge to edge and lacks speed in deep snow.
<< Head Mojo 90 | Backcountry Freestyle | Movement Baggy >>
---