Gear > Ski > Backcountry Freestyle
Freestyle or new school skiing developed out of mogul racing "hot dog" competitions popular in America in 1970s. Competitors launched themselves down bump fields, performing a variety of stunts, both planned and accidental. Runs were judged less on speed or form but on the style and variety of maneuvers. Skateboarding also started to develop at this time and riders wondered if the stunts they performed in inner city skateparks would transfer onto the mountains. The snowpark was born.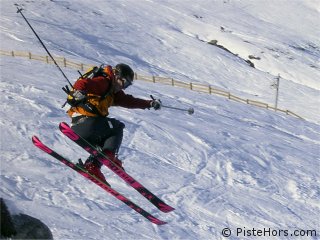 Backcountry Freestyle
These days no large ski resort can do without at least one snowpark. Featuring a variety of modules, rails and a half pipe the best parks will even be served by their own lift. Skiers can perform aerials on jumps or kickers taking off at speeds in excess of 60km/h and soaring 10-15 meters into the air performing triple back somersaults with four twists before landing on a near vertical strip.
Pretty soon some small resorts unable to compete with hyper-domains on variety and length of runs realized that a snowpark was an inexpensive way to attract new skiers. Let the local experts loose on one of the pistes to shape a variety of kickers, floaters, table tops and hits, combined with a cheap lift pass the resort had a fantastic marketing tool. These small resorts are often close to major towns so skiers (and boarders) can head up after classes or take a half day from work. The Col de Porte close to Grenoble is one example.
New schoolers pretty soon worked out that they didn't need to pay for a 35€+ ($40+) lift pass just to use a park. Instead they could head to the hills and build kickers and table tops right there or use natural terrain features in a cross-over with freeride. Okay so they had to walk up the hill after each stunt but it was free (as in beer). It also offers an escape from the constraints of resort rules and opening times. In the Pyrénées at the high mountain pass of le Tourmalet skiers can even be seen in mid-summer using the snow fields under the mighty Pic du Midi. The ex-resort of the Col du Coq near Grenoble is also a favourite spot. So backcountry freestyle was born. Some big resorts have smelt the coffee and for example, Tignes now promotes this form of adventure by setting aside special areas off the pistes which have been controlled for avalanche risk.
Road Gaps
Galibier Road Gap
In the late spring as high mountain road passes are cleared by the highway authorities huge chasms are left in the snow. These road-gaps are a Mecca for freestylers. Shape a kicker on one side and a landing strip on the other and it is possible to fly up to 20 meters over the roofs of cars and camping vans. Great fun, it is a kind of rights of passage for budding newschoolers. Road gaps make for spectacular photographs and spectacular brushes with the law. An official and legal Road-Gap weekend takes place on the high Galibier pass in mid-May.
Backcountry Freestyle Skis
Backcountry freestyle skis are twin tipped to enable forward and backward skiing and landings. Essentially any ski that works in the snowpark but also provides enough floatation for off-piste use will do. In the right hands these are probably the most allround skis available. The geometry and structure of freestyle skis are designed for performing stunts. In particular both tips are reinforced. Bindings are mounted centrally to facilitate landings in both directions. Normally edges are wider to resist rail riding. In short all features that are welcome in the backcountry too.
Armada
4FRNT
Head
K2
Rossignol
Salomon
Scott
Big Mountain Freestyle
Fat and long twin-tips excel in deep powder, offer excellent turning characteristics as well as being pretty competent on piste. Less suited to the park they excel at big mountain hucking and jibbing.
Armada
Black Crows
Black Diamond
Dynastar
Head
K2
Movement
Nordica
Rossignol
<< Freerando | Ski | Ski Weights >>
---