Articles > Diamonds Are For Never > The Espace Diamant
The dream of linking the resorts of the Val d'Arly (Praz sur Arly, Flumet, Notre-Dame-de-Bellecombe), Evasion Mt-Blanc (Megève, Saint-Gervais, Saint-Nicolas de Véroce) and the Espace Crystal (Les Saisies, Crest-Voland) has been around for at least 20 years. If les Contamines is included it would create the largest linked domain in the world with well over 600km of pistes. A skier could travel from Praz to Saint-Gervais without removing his skis.
The linked area already has a name: l'Espace Diamant and one of the stations has a new natty diamond shaped gondola lift to go with it. A council meeting at Praz on the 30th of March 2004 outlined the vaste scale of the project which would unite two departments, the Savoie and Haute-Savoie and four communities, Hauteluce, Notre Dame de Bellecombe, Praz sur Arly and Megève. The estimated cost is 17,611,000 € and will require the construction of 7 ski lifts : a high speed chair, 5 fixed chair lifts and a drag lift along with the 26 pistes. The project even includes costs for "sustainable development", including reducing and compensating for the environmental impacts.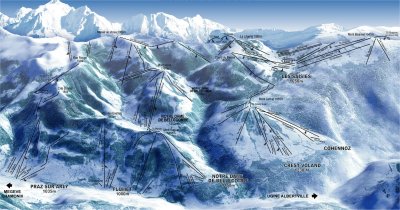 L'Espace Diamant
The Espace Diamant will link three ski domains : Crystal, Val'Arly and Evasion Mont-Blanc covering 9 ski stations over 20 km of mountain side. The new domain will have a a capacity of 77,500 beds, a total of 161 lifts over 326 pistes covering 525km of skiing. This will make it larger then the hyper-domains of Paradiski and les Sybelles.
Hauteluce will see three new lifts with Bellasta being essential for the project with 11 new pistes covering 25 hectares.
Megève will build a high speed chair to link with Saises and fixed chair to link with Praz. There will be 8 new pistes covering 13.06 hectares.
Notre Dame de Bellecombe will build a drag lift to enable skiers from les Saisies to easily reach Praz, two pistes will be built covering 3.7 hectares.
Praz will build a four seat chair along the ridgeline to the Mont de Vorès from le Saut du Loup in the Basse Combe. From here skiers can directly reach Megève/Hauteluce and Notre Dame de Bellecombe. 5.3 hectares of pistes will be built.
The project says that natural slopes will be exploited and remodelling of the mountain will be minimal. The project claims that no wooded area is affected. A sum of 238,000 € has been reserved for regrassing affected zones after the work has been completed and a further 150,000 € budgeted in the first year to protect tétras-lyres (rock-partridge) lagopèdes (alpine Ptarmigan) and royal eagles that inhabit the sector. Four environmental technicians would be recruited to assist with this work. The majority of financing for the project will come from a loan subject to market conditions.
A major interest from the viewpoint of the small Val d'Arly resorts is the access to a high altitude ski area. The project would, at a stroke, transform a number of middle tier ski stations into a vast hyper-domain and at the same time satisfy the demand of an international clientele interested in exploring different pistes every day of their stay. It all sounds wonderful. A member of the skipass.com forum has even calculated that it will take a skier a shade under 3 hours to travel from Saises to Flumet, assuming no queues. This would include only 45 minutes actually skiing. A home from home for holidaymakers from the cities.
<< | Diamonds Are For Never | Opposition to the Espace Diamant >>