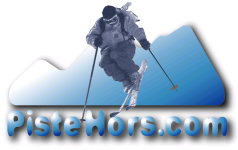 Posted on: 2019-01-31 14:35:48 by davidof
Lone skier's lucky escape
A lone skier had a lucky escape after getting caught by an avalanche on the Roc d'Arguille in the Chartreuse mountains near to Grenoble. The man had set out with two friends from the trail head at le Baure but decided to continue alone on the descent of the Giclard. This is a favourite route when conditions are dangerous but it is not without risk. The entrance is a 35 degree east facing glade and it was precisely at this point, at around 16h00, that the 40 year old local man triggered an slab type avalanche.
Carried downslope he was taken over two rock bands and found himself crushed against the trees and buried up to his shoulders. Able to free an arm he spent 2 hours digging down to his mobile phone and was able to send an SMS despite the poor coverage to his wife and to one of his friends who in turn called the rescue services at around 18h00. After an extensive search the CRS des Alpes located the victim at 19h00 suffering from bruises and hypothermia. The man was taken to the Grenoble University Hospital.
The avalanche risk was 3/5 (Considerable) with around 30cm of fresh snow in the sector accompanied by North then West winds. The bulletin had mentioned slopes from the NW through to East as being at risk of skier triggered slab avalanches.

Location
Comments