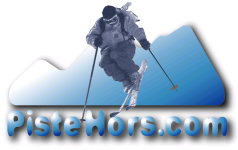 Posted on: 2015-04-07 11:17:08 by davidof
Avalanche hits piste skier at les Arcs
An avalanche has hit a skier on the Arandelières red at les Arcs yesterday. Triggered by a Belgium who was skiing off psite on the Aiguille Rouge at around 13h30 the Belgium was carried 500 meters and suffered multiple injuries. The piste skier escaped without injury. On the 29th March 2013 a Russian woman was killed by an avalanche skiing on the Grand Renard piste in the resort.
At la Clusaz there was a snowboarder triggered avalanche in the Couloir de la Lana above the Creuse bowl. A snowboarder was carried over small cliff bands by the slide and the debris hit two ski tourers below. The snowboarder was not buried but suffered back injuries. One of the ski tourers was buried under a meter of snow. Recovered in a state of hypothermia both he and the boarder were taken to hospital.
Skier triggered avalanches were also reported in the Belledonne (Siflet and Illettes sectors) and a substantial avalanche narrowly avoided two ski tourers in the Mont du Fût sector in the Belleville commune.
http://pistehors.com/on-piste-avalanche-at-les-arcs-22743926.htm
Comments