According to regional newspaper le Dauphine Libere the mountain town of Passy close to Mont Blanc is France's most polluted town.
A report from Air in the Ain and Savoie region (Air APS) says that in 2008 Passy registered an annual average of 3.9 nanogrammes / M3 of Benzo[a]pyrene. A national record. Worse than in the heavily industrialized region south of Lyon!

Didier Chapuis the director of Air APS says the component "is effectively very dangerous". The are biologically active molecules which are highly cancerous and can combine with molecules in animals causing cellular malfunction. They can also adversely affect the immune system.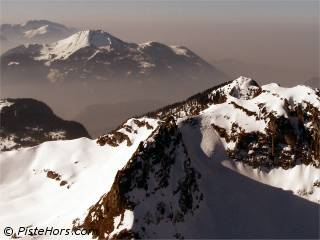 Smog blankets the Arve Valley
Passy has magnificent views of Mont Blanc and is home to the ski area of Passy-Plaine Joux. It is also one of the areas included in the Annecy 2018 Winter Olympics. An athlete's village is scheduled for the town.
http://en.wikipedia.org/wiki/Benzo(a)pyrene
http://www.ledauphine.com/index.jspz?chaine=23&article=236634