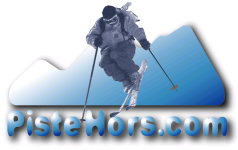 Posted on: 2019-05-19 17:41:05 by davidof
Experienced skier killed by spring snow avalanche near Chamonix
A skier has been killed by an avalanche in the Aiguilles Rouges mountains close to Chamonix. The 33 year old skier was climbing the North East couloir of Aiguille de Mesure (2812 meters) with the aim of descending by the same route when the avalanche occurred at some time during Saturday morning. The skier was alone and there were no witnesses to the incident.

The victim's girlfriend raised the alert in the evening when he failed to return home. The mountain rescue made an initial helicopter search of the sector. They spotted a ski and ice axe at the top of the couloir before locating the skier's body 500 meters lower down at the foot of the aiguille de Praz-Torrent. The victim was partially buried by a spring snow slide, he was probably killed by the fall. The skier, said to be "very experienced" with a number of steep descents to his name, was a resident of Chamonix but originally from la Mouille in the Jura.
There is no detailed avalanche bulletin but Meteo France warned of "wet snow slides, small slab and purges close to summits which could lead to falls on steep slopes".
Homage to Marco

Location
Comments