When the Alpine ski resorts close their lifts the main option for skiers who still want their fix of spring snow is to climb on skins. Okay there are a few holdouts, glaciers, certain US resorts that stay open late. For cross country the options appear even more limited with most piste preparation ending in early to mid April.
But all over the Northern Hemisphere there are confidential bands of skiers, largely from clubs and national teams who have their own secret spots. Information about where nordic skiers have chosen to slide is sometimes only communicated days in advance and is closely guarded.
The options for late spring nordic skiing in the northern hemisphere can be broadly split into four groups. Like ski touring you have to be up early before the snow gets too wet and sticky.
Crust skiing
Crust skiing is the cross country version of ski touring. It can be practiced in the winter after a long spell of anti-cyclone bakes the snow-pack hard but is normally reserved for April onwards when the freeze-thaw cycle forms a thick, hard, skiable crust. Timing is everything but it is generally a morning activity with a window of a couple of hours before the snow softens too much in the sun. Some cross country skiers live for crust skiing like it is Christmas. Free from the pistes, skiers can glide and slide with absolute freedom, some even attempt ski touring summits requiring considerable descending skills such as the Carlit in the Pyrenees. The main constraint is that long periods of warm conditions can form golf-ball surfaced sun-cups which are unpleasant to ski.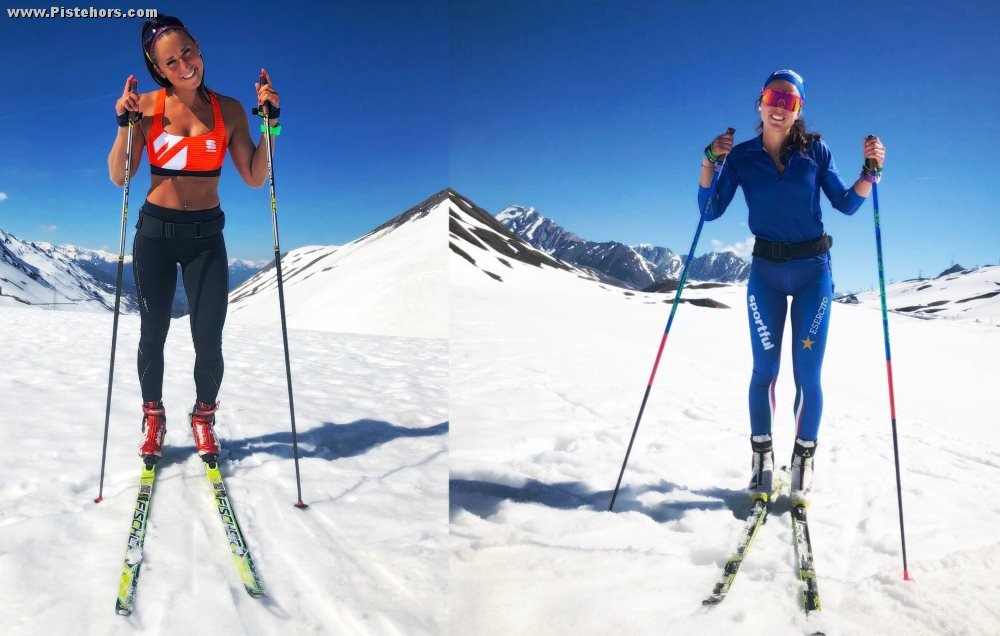 Alice Calcini and Ilenia De Francesco on the Petit St Bernard Pass, France

Spots are road passes when they open in spring : Doro Wierer, Ilenia de Francesco, Monica Tomasini and other members of the Italian teams have been spotted this spring on the Passo Rollo in Italy, Ilenia de Francesco, Alice Canclini, Laura Colombo and Enrico Nizzi on the Petit St Bernard on the French Italian Border, Desi Steiner and Alina Meier on the Fluela pass in Switzerland and the French team on the Cormet de Roselund and Sophie Caldwell on Indy Pass in the USA, yes those are cross country skis that Sophie is on.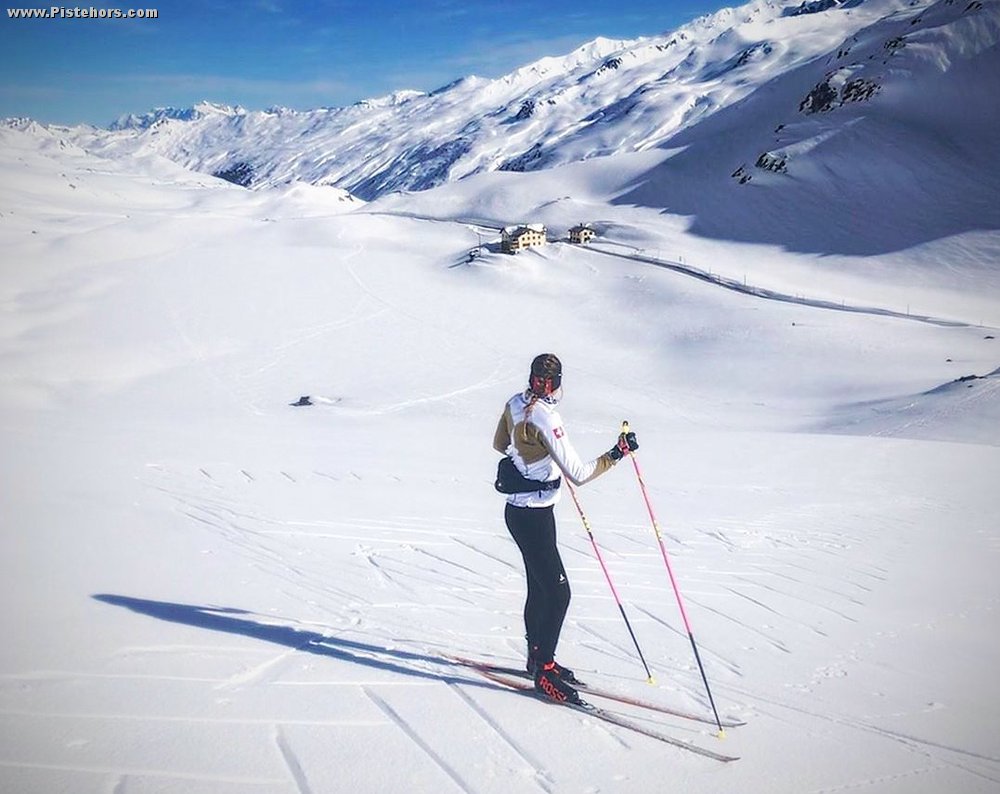 Désirée Steiner, Fluella Pass, Switzerland
High plateau are another option but are frequently not as accessible. We crust skied in the 7 Laux this spring and due to left over man made snow it was possible to ski to the resort parking at 1600 meters until the second half of May. We've skied the high plateau of the Chartreuse in May. The US ski team has been active on Broken Top Mountain in Oregon. The trick is to find somewhere not too far from a trailhead which is reasonably flat but that is high enough (2000 meters +) to hold snow. It takes a bit of research or local knowledge.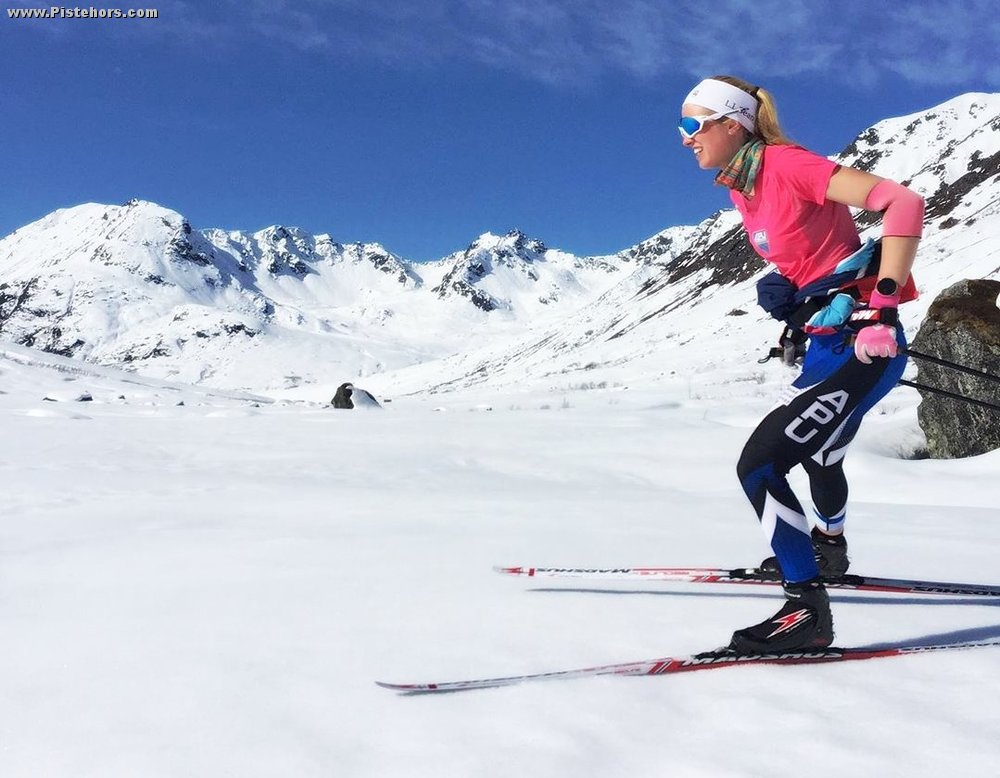 Hailey Swirlbul, Broken Top Mountain, USA

Glacier Skiing
As with Alpine skiing there are glaciers that offer cross country. The US team including Sadie Bjornsen are currently active on Eagle glacier but Eagle is a pretty confidential affair as it is not easy to access. Tignes, Dachstein (2700), les Diablerets, Passo dello Stelvio all have cross country areas open during the summer but as with alpine skiing they are pretty heavily used by teams and club and with limited terrain. You also have to remember the altitude, around 3000 meters, which will have non elite skiers gasping for breath.
Les Diablerets is a shadow of its former self with just 3km open from mid May to early October . The Passo dello Stelvio (Stelvio Pass) has two trails on the glacier at over 3,000 meters during the summer months. As soon as enough snow has fallen, another track is opened to pass height (2,750 meters). The road pass is world famous with cyclists and is also a highlight for fit rollerskiers. Dachstein has the 5km Ramsau trail prepared throughout the summer but the 10km Hallstätter trail only opens with the first snow of autumn September. In the last weeks the Fialvoka sisters have been bashing the runs up on Dachstein.


The holdouts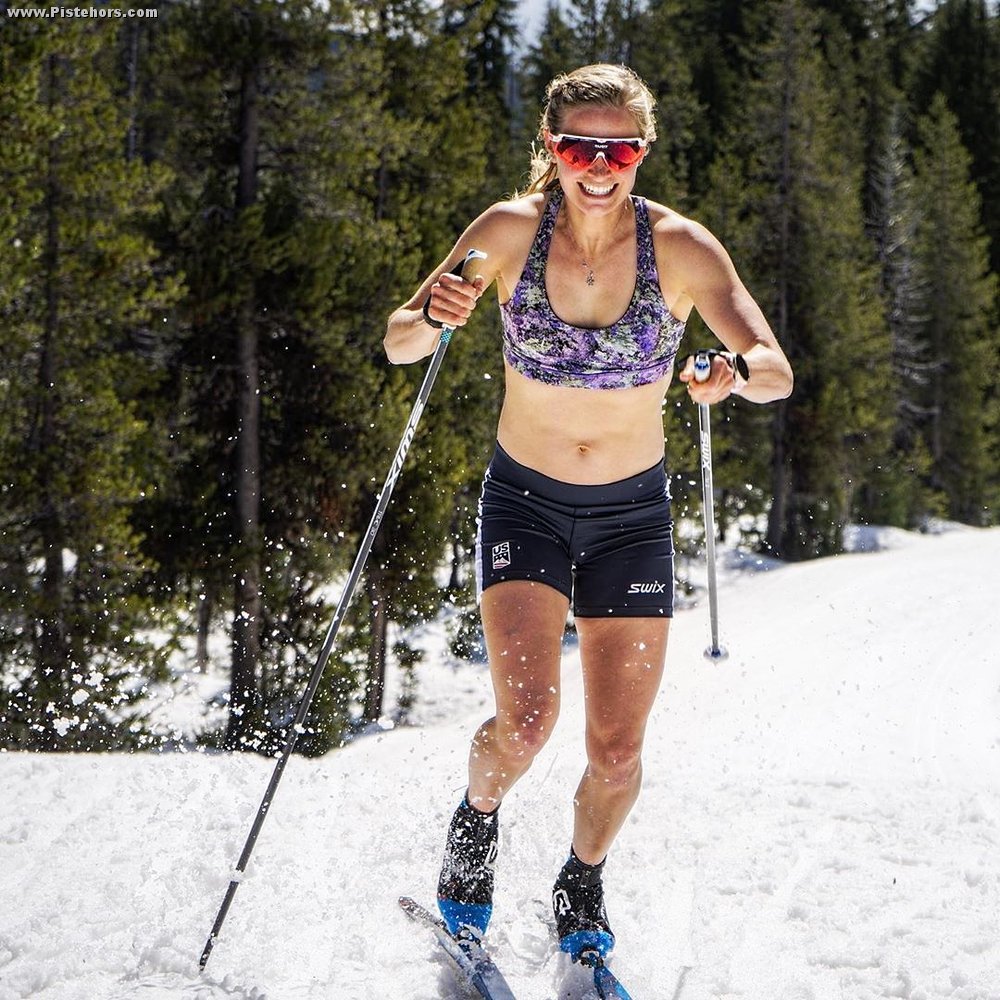 Jessi Diggins, Bend - Oregon, USA
Some ski areas stay open late. Sognefjellshytta in the far north of Norway, Mount Bachelor and Bend in the USA are all favourites with club and team skiers looking for some late season training. Sognefjellshytta (1400 meters) is open through to August, they salt the trails to harden the snow. You can often spot ski superstars like Therese Johaug as well as other national team members such as James Clugnet and the UK cross country team. Even the Cedars in the Lebanon managed to keep trails open into late April this year thanks to copious late season snow.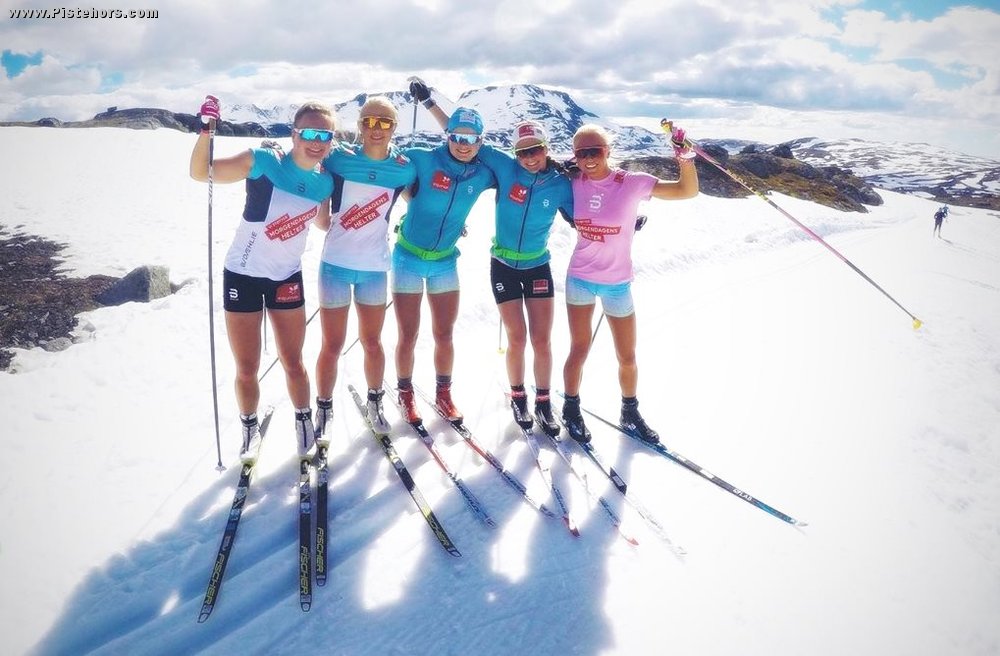 Marte Mæhlum Johansen and friends, Sognefjellshytta, Norway

Secret team spots
The national teams have their own plans, frequently backed up by considerable resources. At the end of May the French team had an end of season training camp up on the Cormet de Roselund pass but areas change from year to year. They actually brought a piste basher from the nearby resort of Beaufort to prepare trails but also took advantage of the crust skiing opportunities. The Italian (and Thai, yes really) teams was active near Gressoney la Trinite at the Gabiet refuge (2375 meters), again preparing their own trails with a piste basher from the nearby resort.