How far can you ski in a day? For many downhill skiers 100km/10,000 meters is considered a solid day out, uplift included but for some cross country skiers that would just be a warm-up. The approach of the Covid-19 lock-down has been a good excuse for many athletes to get in some pre-confinement kilometers. First out of the gate was French coach Nicolas Perrier. He managed "just" 295km at Chamrousse on a somewhat rolling course. Norwegian World Cup skier Christer Holund and his friends completed 204 km in 11 hours, they were followed by Anders Aukland and his mates who did 321 km in 19h. They were skiing regular trails with hills.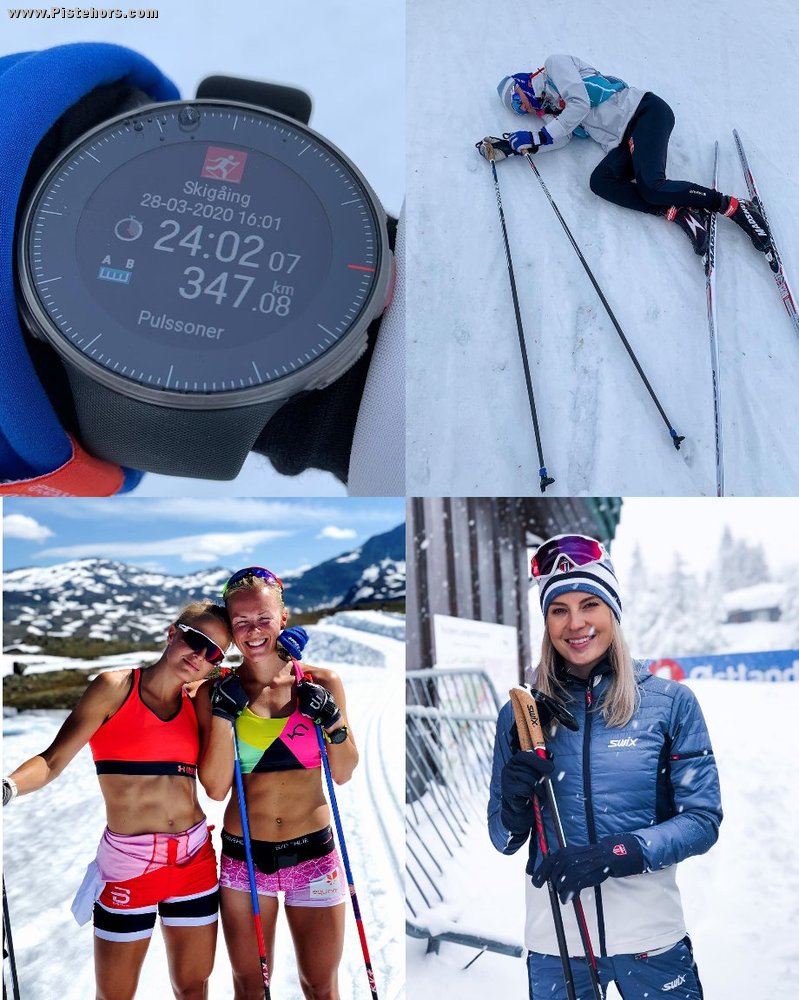 On the 29th March Eirik Asdøl decided to make a serious attempt on the 24 hour record held by Hans Mäenpää of Finland. This stands at a whopping 472km. Eirik skied and icy stretch of 3.73 km back and forth. It started well averaging 22.5km/h but after 18h50m and 376km completed he had to quit when he could no longer see properly and had breathing difficulties. He reckons he started out to fast and might have been better classic rather than skate skiing.
The ladies didn't' want to be left out and Thea Murud put in a very respectable 347km, according to her stats 64% of that was "fat burning", although where she found the fat to burn is anyone's guess.
Finally long distance specialists, 47 year old Anders Aukland and his brother Jørgen along with Joar Thele wanted to set an 'unbeatable' record by skiing 6 km around Lake Gjerdingen, located to the north of the capital of Oslo , they completed 516km in 31.5 hours. An unofficial record as the course was not homologulated. They were double pole classic skiing and their arms and fingers took some punishment but they were still able to walk at the end. Ander's son skied with his dad over 20km. They had the assistance of a skiman for waxing. Norwegian TV consultant Jann Post said "such a performance shows the precision and professionalism of the training of athletes at the highest levels, you need both an incredible body but also a strong mental force". Ander's commented "the body can withstand so much more than you think! We never chased speed .. and it is possible to go much further if you really want to..but after 31h we were happy to go home!". Well maybe his body can.
More information
https://www.instagram.com/p/B-XJZu_nJ9A/ - Anders Auckland strava screenshot