Ski and Snowboard News
Sunday, 10 February, 2013
Road and lift closures. Evacuations and residents confined to their homes. The storms that have brought over 7 meters of snow to the Pyrenees since the New Year don't seem to be putting a smile on ski resort director's faces. Quite the opposite in fact. Some are asking if they were not better off with last season's snow drought. Yesterday at Mourtis, a resort where skiers are more familiar with grass and mud, the piste bashers were running non-stop and the upper lifts have barely opened all week. The diesel bills is eye watering.
Posted by davidof at 11:35 PM
• (6) Comments •
Read More...
•
Thursday, 07 February, 2013
No not Valdez in Alaska or Niseko in Japan but the spa town of Cauterets in the Pyrenees. Normally better known for its suphur smelling waters the town has been battling against snowmaggedon since the New Year. Anyone who has followed our snow reports will have noticed that the avalanche risk in the area has seemingly been stuck on "High"; that is because the area has seen over 7 meters (that's 276 inches) since the start of January.
Posted by davidof at 08:44 PM
• (2) Comments •
Read More...
•
Saturday, 02 February, 2013
The Daube has a good article on the long shadow cast by the ghost stations of the alps and focusses on Drouzin le Mont. They also talk about Abondance (saved by an American who then threw in the towel and currently run by the town hall) and St Honore (la Morte) both of which we've covered in previous articles. It is a nearly decade since St Honore was bought by a mysterious Savoyard company called La Fourmi (The Ant) for 1.6 million euros. Two of the buildings were done up and the apartments sold. Another building was bought by a notaire. In 2011 the final building got planning permission in 2011 for CP Promotion, a subsidary of La Fourmi but since then, nothing. It seems the curse of St Hughes still blights this community.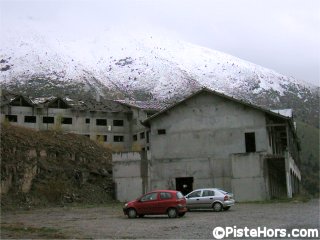 Posted by davidof at 11:32 AM
• (2) Comments •
Read More...
•