Yo' Bro!
At PisteHors we like to believe that we earn our turns and perhaps as a consequence love the rootsie feel of small ski manufacturers with their personalized planks made in limited production runs. Just as long as the skiing experience isn't compromised.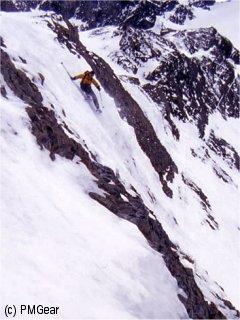 Testing Times in the Andes
PMGear is pretty stoked up by their new Bro Model Ski so we decided to take a closer look at the offering from this US startup.
When we first heard the name we thought they meant Pro Model. It was probably just word association but it conjured up pictures of expensive big mountain boards made using the same technology that goes into an F-18 fighter and as hard to master as a Nevada bronco mainlining on crack. This brought a smile to Ron Shevock, the director of PMGear. Nothing could be further from the truth, the name, Bro Model, means that it is a ski for you and me, brother powder maggots on a shared quest for that perfect run.
The price is a giveaway for this type of ski, $550 dollars plus shipping. This looks even more reasonable over this side of the pond at around 430 Euros – about what you would pay for a Pocket Rocket. George Dubya be praised! PMGear aleady have orders from as far afield as France, Great Britain and Italy. Shevock says that the price enables them to build a big-mountain ski with all that entails: strong 22 oz. triaxial fiberglass laminate, light fir wood core construction, two layers of anti-vibration rubber with thick Rockwell 48 edges and sintered black P-Tex 4001 base but at a price point that is within reach of skiers doing 100 days per year on snow. The ski has "race-room" for those competing in freeride comps. The brotherhood clearly spend a lot of time in the mountains.


Bro Model Ski
Okay, I can almost hear you think, you've spoken a lot about the brotherhood, the happy few traveling the planet for "l'esprit de la glisse", but the path of the small ski manufacturer is beset with problems. Just look at the infighting at Bumtribe. Pat Keane, Power Magazine journalist and PMGear CEO thinks the Bro is different. The company was founded by people who met on bulletin boards, in particular at the Teton Gravity Research and PowderMag Forums. Keane thinks ski companies are missing out by not tapping into the "the volume and quality of real-time information exchanged through message boards and chatrooms". As a backcountry eZine we endorse Keane's viewpoint. Keane believes that "Skiers who frequent online forums devoted to the sport will change the way we research and book travel, find fellow skiers at local areas and abroad, and, in the case of the Bro Model the way we design and sell skis."
Currently small ski makers are pursuing two strategies. Either selling through normal channels, shops and ski events, or by selling online. The former means ramping up production to keep overheads down, maybe not to the level of Atomic or Rossignol but both Zag and Movement who market in this way produce around 2000 pairs of their bread-and-butter skis. The skis are not hardcore big-mountain tools, with this kind of production level the skis are really sold to people who will mainly use them on-piste with occasional forays into the backcountry. This leaves them the option of making some limited product run skis, but then we are back to Pro models and the $1000 pricing, fine if your dad is Rupert Murdoch.
In Europe Bumtribe and Boheme are already selling exclusively via the Web. This keeps overheads to a minimum but requires good guerilla marketing through online channels. Of course springing $550 for a pair of planks without at least some good reviews is a bit step. We can only suggest that he who lives by the sword can also die by the sword. Keep an eye on the ski forums, in particular Teton Gravity Research, over the coming months to what real skiers make of the Bro Model. PMGear are confident that they've done their research and have built a ski that will create the right kind of buzz on forums and discussion groups.
Of course you don't just talk to some buddies on-line, decide on the sidecut and go build a ski with whatever you have lying around in the garage. These days ski design involves computers, prototypes and extensive testing. Feedback from ski forums led PMGear to settle on a single 188cm ski length design available in stiff and soft flex for alpine and telemark use. They demoed skis in late summer, and in the USA that means one place: Mount Hood's Palmer snowfield. Like a forties film starlet the ski is voluptuous, 125-99-114mm from tip to waist to tail. With statistics like that and good looks you'll almost want to send your girlfriend to the couch to sleep. When the skis are laid side by side they give the impression of being a snowboard, this in enhanced by the semi twin tip design.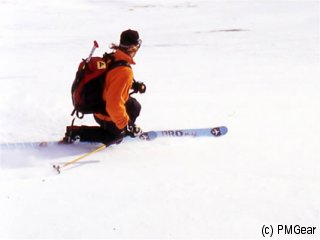 Telemark Mode
PMGear say that the Bro Model's double layers of vibration-dampening rubber make the 188 cm ski feel as stable as 223 cm downhill boards and yet as forgiving as a soft 170 length pair of skis. Three separate strands of fiberglass are layered at -45°, 0° and +45° and act as beams, maintaining torsional rigidity thus creating better response coupled with greater edge to edge control and lightweight durability. Now we have not demoed these skis but reports from testers at Mount Hood say that despite the size the skis perform well on piste, carving turns and were surprisingly quick from edge to edge. The ski really comes into its own when you leave the runs, its wide, stiff spatula plowing through crud and crust like a Russian icebreaker and its generous dimensions giving good floatation on pow.
A set of prototypes were shipped to the demanding environment of the Tierra del Fuego, just 1000 miles north of the Antartic. Here the ice and snow from the Andean Cordillera reaches down to the sea. A group of North American ski bums gathered over the summer to test alpine, touring and telemark rigs. At the most southerly refuge in the world the single lift costs 10 Pesos a day, about $3. Still a large sum when you consider the average monthly income in the region is around 200 bucks but heaven for ski bums from the north. But the real skiing begins above the lifts in the hundreds of kilometers of mountains, a real wilderness. For this the team used Ascension climbing skins and Fritschi Freeride and telemark tour bindings and of course carried medical kits and survival gear. Although a rescue service is available, again costing 10 pesos, you are a long way from the efficient helicopter networks of the European Alps. This extensive testing in tough conditions provided more valuable feedback. As a gesture to the locals the team left the Bros at the refuge along with an assortment of other ski gear.
The Competition
The Bro' is up against some more or less stiff competition in 2005 from the big boyz including two swallowtails: the Völk Sanouk (745€) and Salomon AK Lab (890€ with bindings). The Swallotails, particularly the Sanouk, look great but only comes into their element surfing vaste powder fields. Not something you find everyday of the week, at least in France. The Bro most closely resembles the Head monster i.M 103 Pro (649€), at least in terms of looks, but this ultra rigid ski lives up to its Pro name, requiring a physically strong and capable skier to pilot it under all conditions. PMGear have toyed with the idea of building an ultra-rigid version but this will be as exclusive as the Head. The Dynastar Legend Pro (864€ with bindings) and K2 Made'n Ak (619€) are the most accessible of the fat freeride skis on the market and probably represent the strongest competition for the Bro model in terms of riding experience.
more info from: PM Gear Website

Posted by
davidof
on Friday, 05 November, 2004 at 03:41 PM
Comments are now closed