Swallowmania
The 5th edition of Swallow Mania is being held over the weekend of the 4/5 February on the slopes of la Grave - le Meije. As the title suggests the event celebrates swallowtail snowboards with the addition of fat skis. Visitors will be able to test the latest gear aimed a carving sweeping turns through powder fields assisted, if needed, by a team of high mountain guides.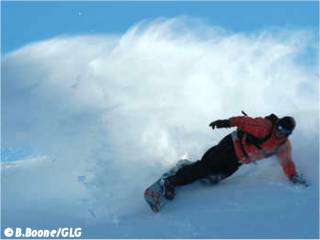 Where better than in the unique spot of la Grave for such an event? Opened in 1976 with its single "pulse" cable car designed by Denis Creissels, inventor of the DMC ski lift, the area has developed into the spot for European off-piste skiers over the last two decades.
Recently swallowtail designs have appeared for skis including the Movement Pow Pow Swallow, Salomon AK Lab and Scott Santiago Pure. While esthetically pleasing these ultra specialized skis are only really at home on big powder days. Amongst the snowboard exhibitors a couple of names stand out: the original Winterstick whose boards featured in cult snowboard (and monoski) movie Apocalypse Snow which has recently been released on DeeVeeDee if you have not seen it. Then there is APO, Regis Rolland's company and star of the aforementioned filmed. Also showing are Swell Panik, Rossignol, Boheme Dynastar snowboards, Clone Ind and Dupraz. Amongst the fat skier exhibitors are Rossignol, Dynastar, Boheme, Bumtribe, Blizzard, Movement and Titicaca with North Face showing off ski wear.
Saturday evening is given over to après events and Swallow Mania finishes with Sunday lunch at the 3200 restaurant.
Website: http://www.swallowmania.com/
Posted by on Sunday, 29 January, 2006 at 01:38 PM
Comments are now closed