Ski Safely
The French Sports Ministry is launching its annual safety campaign. After Saturday's accident in les Angles in the Pyrénées it is worth remembering that down-slope skiers and boarders have priority and that it is the responsibility of slope users to ride at a reasonable speed and choose a safe trajectory, especially on beginner runs.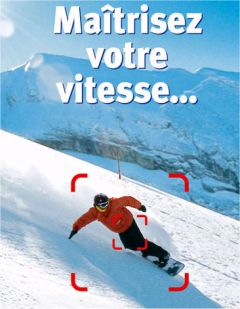 These are a couple of security regulations that off-piste, and normally expert, skiers and snowboarders may sometimes forget. This year 76 resorts will be equipped with 398 information panels, 27 more than last season. In addition 20,000 pamphlets and 150,000 post cards will be given out available at Tourist Offices, Ski Shops and Schools.
The piste rescue services carried out 55,968 operations between the 1st of December 2003 and the 31st of May 2004. These figures include 10 people killed in avalanches off piste :
Avalanches at Tignes and Val d'Isère – 29/12/2003
Snowboarders killed in Tignes Avalanche – 10/10/2004
Snowboarder killed by Val d'Isère Avalanche – 10/01/2004
Boston Resident Killed on the Brevent – 12/01/2004
Piste Patrol killed during Ste Foy Avalanche Control – 19/01/2004
Belgium Skier Killed by Tignes Avalanche – 25/01/2004
Off Piste Skier killed at Valloire – 23/02/2004
and 13 other deaths off-piste, principally due to falls, 14 deaths on piste plus the death of a cross country skier.
Related Links:
A study of Backcountry Ski and Snowboard Accients – Published in the American Avalanche Review, autumn 2004.

Posted by
davidof
on Tuesday, 07 December, 2004 at 02:34 PM
Comments are now closed