Rendez-Vous des Etoiles: 3rd edition

The third edition of the Rendez-Vous des Etoiles takes place over the 17, 18 & 19 December 2004 on the legendary 2877 meter Pic du Midi de Bigorre at the heart of the la Mongie-Tourmalet ski domain. The snow had already fallen in abundance so we are hoping for a superb kick-off to the Pyrenean season.
This year the concept is to unite 5 pro-riders with 5 personalities and with 5 photographers.
The organizers G2N (glisse, nature & nourriture) have planned a bigger even this year. Down at resort level there is the chance to test this year's skis, snowboards and accessories. The best skiers and boarders can even try out the gear on the incredible Pic du Midi accompanied by a professional. There will also be the chance to taste local produce and to watch the latest free-ride movies. Things don't end with sunset. A nocturnal freestyle show is also scheduled in the resort. We particularly enjoyed this event last year as it gave us a chance to chat with some of the personalities that had been invited to G2N while watching some excellent tricks. More diverse themes are an exhibition "du flocon à la vague" on the subject of the environment and a workshop on the care and security of a ski domain.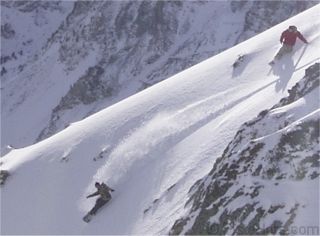 The five riders are part of the 2006 Pyrenean hopes for the Winter Olympics in Turin, Italy.
Nathalie Tyack, a member of the French dowhill ski team and ranked 14 in the world. Mathieu Crépel, vice world champion on snowboard Paul 'Polo' and Xavier Delerue. Xavier is the four times world Boarder Cross champion and a favourite for 2006. Vincent Valéry. ranked 5th at Boardercross by the FIS in 2004. Guest Star Cuca Aranda from over the border in Spain is one of the best female snowboarders in Europe.
Representing the photographers are Noémie Ventura, Antxon Epelde, Jean-Marc Favre, Dan Ferrer and Daniel Nouraud.
The special guests follow last year's theme of riders of the waves and snow and include yachtswomen Isabelle Autissier and Jeanne Grégoire, Yachtsman Pascal Bidegorry. Freerider Anne Cattelin, until retiring from professional sport Anne had made the Derby de la Meije her own. Doriane Vidal, former Olympic half pipe vice champion. Régis Rolland pioneered snowboarding in Europe and was the star of the Apocalypse Snow series of flims. Candide Thovex, double victor at the X-Games and one of the best freestylers in the world.
Rendez-vous des Etoiles: 2nd edition
More info: [url=http://www.rendezvousdesetoiles.com]http://www.rendezvousdesetoiles.com[/url]
Posted by
davidof
on Friday, 17 December, 2004 at 07:55 PM
Comments are now closed