Preparing for the Winter Season
It has been a long hot summer; you've waited six months for this moment. Maybe drowning your sorrows in a bit of mountain biking, roller blading or longboarding. Nothing really makes up for that first trip to the mountains. The twinkling snow crystals, the crisp mountain air, the spectacular view from the summit but somewhere in the back of your mind there is doubt, have you forgotten something important?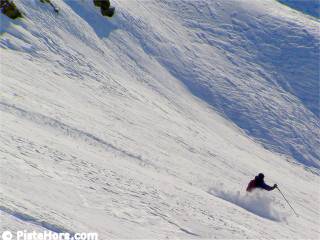 Before you fix skins to skis or step in to snowshoes we'll run over a checklist to prepare you for the winter season. First thing is controlling your skis. Check that the bindings are correctly adjusted, especially if you have slackened them off over the summer. There is nothing worse than clipping in for your first descent and finding they are set to DIN 2 and you don't have a screwdriver with you! Make sure there are no hairline cracks in any of the parts and that the release works correctly. If you have changed your boots make sure they are set to the correct length of sole. It may be worth putting a bit of grease on the spring and adjuster mechanisms.
Check that the baskets on your poles are not on the point of breaking and that collapsible ski poles still work correctly. The locking mechanism may be seized or require tightening to work correctly.
Remove all that wax you left on the base of your ski or board to protect it over the summer. You can use liquid wax on your boots, bindings and even ski pole baskets to stop snow build up. Earning your turns is hard enough without taking half the slope with your. Check your climbing skins especially the glue and any clips and remember it is always worth having a small role of electrician's or duct tape in your bag for when they just won't stick.
The trio of avalanche beacon, shovel and probe should be examined. New alkaline batteries for your beacon and make sure that it not only transmits and receives but that it still has a good range. Some transceivers are prone to frequency drift with age and this reduces their effective transmit range. If you suspect problems contact your supplier. The most important part of your climbing probe is the internal condition of the internal wire or string. The blade of your shovel should also be in good condition.
Make sure your crampons are adjusted to your boots and remove any burrs that could rip clothing with a file or grinding stone. You should also check your rucksack to ensure straps are in good condition and this is also a good moment to rinse out your water bag with some bleach and to put some insulation on the drinking hose to make sure it doesn't freeze up on cold winter days.
Now is also the time to revise your avalanche knowledge and search and rescue skills. We will be giving some more resources on PisteHors.com over the coming weeks but in the meantime why not take a look at the Canadian Avalanche Associations's Online Course.
http://access.jibc.bc.ca/avalancheFirstResponse/index.htm
Just don't let your boss catch you doing it!

Posted by
davidof
on Wednesday, 14 December, 2005 at 07:48 PM
Comments are now closed