Heisenberg
Snowshoe, board, skis, however you access the slopes it is probably true to say that we are not there just for there as the French would put it for "le plaisir de la glisse" but also because we love nature and the mountains. But in observing what we love we also disturb it. In the extreme conditions of winter mountains life is lived on the edge. A hibernating animal disturbed from its slumbers by off-piste skiers whooping it up may not survive the winter. A cigarette butt carelessly tossed from a chair lift will pollute 1 m2 of soil and take 2 years to degrade.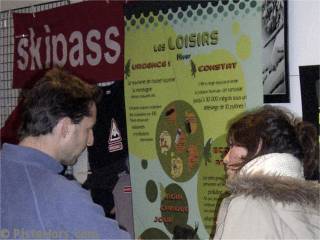 Last night Mountain Riders decided to kick off the 2006 season with an exhibition in the SkiPass lab on Rue Dr Mazet in Grenoble. SkiPass is one of the most popular winter sports sites on the web, over 4 million hits in November 2005, about 15 times the traffic of PisteHors.com. The site, with its cultish motto "In Tartiflette we Trust", is in part financed through its merchandising, in particular a series of zany t-shirts. For every t-shirt sold one Euro ($1.20) goes to Mountain Riders.
Mountain Riders was inspired by Surfrider foundation, a team of surfers who have campaigned to protect the French coastline. Since 2000 they have run educational campaigns to make both individuals and communities aware of the effects man can have on the mountain environment. Some examples: a plastic bottle will take up to 1000 years to break down, a snack bar wrapper up to 450 years, the same for a lift pass even orange peel will take 6 months. You can think of the mountains as a giant deep freeze, everything happens much more slowly.
So what can individuals do? Well little things can count. Here are some ideas: Take all your rubbish with you, including fruit skins. Avoid forests and woodlands where animals might be hibernating and which can damage young trees. Use biodegradable ski wax. Favour resorts with a good environmental record such as those mentioned in the Ski Club's Green Resort Guide. Even at home you can save energy by switching to low wattage light bulbs (nearly every light in the PisteHors office has been converted), recycling rubbish and making more journeys on foot or by public transport.
Further Information:
http://www.skipass.com/
http://www.mountain-riders.org/
Respect - PisteHors.com
Posted by
davidof
on Friday, 02 December, 2005 at 05:15 PM
Comments are now closed