French Sports Minister Criticizes Backcountry Enthusiasts
In a statement released over the weekend Jean-François Lamour, the minister of sports said that off-piste enthusiasts "may be good skiers or good snowboarders but they often lack sufficient mountain knowledge". He described the 54 avalanche deaths this season as "unacceptable" and called on backcountry travellers to "make a U-turn or change their route if conditions dictate or to stay on open ski runs".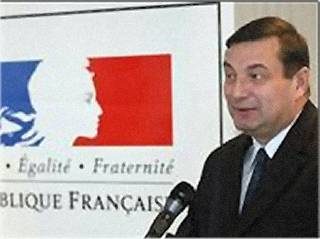 Jean-François Lamour
On Friday Lamour met with leading experts, including representatives of the guides and ski instructor's unions, the rescue services and Meteo France, to examine the question of mountain security in advance of the Easter holiday period. The aim is to launch an information campaign addressed at anyone thinking of going off-piste. The minister noted that to date there had only been three fatalities on open pistes but a large increase in off-piste and ski touring accidents with 53 people killed by avalanches during the winter months. 47 of them recreational skiers and snowboarders. He puts the increase down to three factors:
i. A general improvement in the level of recreational skiers and technical progress of materials that make powder skiing easier
ii. The weather and snow conditions that amplified the risk of avalanches
iii. The behaviour of individuals was an important factor and is a reminder that the mountains are a difficult environment with objective dangers.
Lamour has asked all professionals, instructors, guides and piste patrollers to deliver this message because he believes they are the people who best know the risks posed by the mountains and have the credibility to give technical information or to advise whether a group should abandon a trip.
The new prevention campaign will consist of 1000 signs giving advice relating to off-piste activities accompanied by the Meteo France avalanche bulletin. These will be posted in front of Ski Schools and Guides Offices. The signs will be in several languages. He said there was no question of banning or further regulating off-piste skiing but considered it was up to individual skiers, whether professional or recreational, to act responsibly.

The minister has also extended the brief of the SNOSM (système national d'observation de la sécurité en montagne) which already examines accidents in ski resorts to study the cause of all mountain accidents.
PisteHors.com, amongst other groups, has been calling for better information for backcountry enthusiasts for a number of years. In our 2004-2005 report on off-piste and backcountry accidents in France (published in The Avalanche Review) we noted the lack of avalanche bulletin in languages other than French and lack of knowledge of even basic information such as avalanche flags. We also noted that the relatively stable number of avalanche victims (until this season) was more a matter of luck and weather conditions. We have also been a strong critic of ski resort's heavy marketing of off-piste activities without a corresponding safety message and had suggested information panels in key points such as lift-pass offices.
Further Information
2004-5 analysis of backcountry and off-piste accidents in France
Posted by on Monday, 03 April, 2006 at 10:10 AM
Comments are now closed