Ex-minister takes aim at Snow Canons
Serge Lepeltier, the French environment minister until a reshuffle last summer, was told to get off the ski pistes by the mayor of l'Alpe d'Huez, M. Eric Muller. M. Lepeltier had been distributing pamphlets opposing the use of snow canons however the ski domain is not public property and the resort objected to his actions.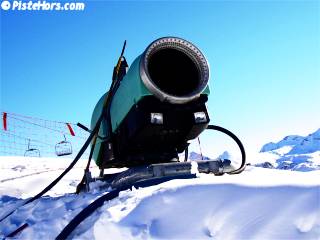 The former minister, who has founded a group called Valeur Ecologie, considers that "snow canons are bad for health" due to the use of bacteriological agents and that "they use too much water", which has consequences for the environment. He commented that "his welcome at l'Alpe d'Huez shows that some are afraid of the debate". The mayor said he should make his protest in the French parliament and that his leaflets were littering the resort having been thrown away by disinterested skiers. He assured journalists that the resort's 700 snow canons "were not polluting." Mr Muller is not afraid of controversy, he has called for extreme ski videos to be banned from the resort's bars believing that they encourage visitors to take excessive risks.
After a period of crisis following lean winters in the early 1990s snow making has enabled French ski resorts to operate more or less a full winter season. Artificial snow cover now represents some 20% of the total investment in ski areas.
However an investigation by Montagnes Magazine found that the l'Alpe d'Huez snow canons used more energy in a season than the resort's entire lift system. The majority of snow making needs low temperatures to operate. That means running them at night. Apart from the visual impact, a snow canon emits between 60 to 80 decibels, the equivalent of heavy traffic. This disturbs wild animals which need peace and quiet to hibernate during the harsh winter months.
Artificial snow is also denser than real snow. This is why it makes such a good pre-season base for resorts. This snow has an effect on the vegetation and melts much later than natural snow. The ionized rainwater found in reservoirs has to be cooled to around -7 to -9C before it will freeze and make snow. To make snow at warmer temperatures agents such as Snomax™ are added. Snomax is a protein, it provides a nucleate for ice crystals enabling freezing at temperatures around -3C. A limited study by the French agricultural and environmental research agency (CEMAGREF) has shown Snomax to be safe. The study was partly funded by York International who manufacture Snomax.
Further information:
Ecologists target snow canons
Cemagref Snomax Study
Poma and Alpe d'Huez go Platinum
The End of Extreme at Alpe d'Huez?
fr3/dl

Posted by
davidof
on Monday, 06 February, 2006 at 11:39 AM
Comments are now closed