Espace Olympique Lift Pass Confusion
One of the great things about skiing in the Tarentaise resorts is that if you buy a six day (or more) lift pass you can spend a day at each of the other resorts providing you have some transport. The PisteHors.com team have done this, using les Arcs as a base we hopped around the area from Val d'Isère to Mottaret. All was pretty straight-forward if somewhat time consuming when we did it but reader Brian Rodda has had a different experience.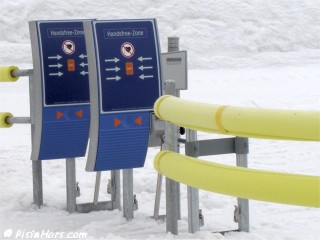 Val Thorens' handsfree lift pass system
'We came to Val Thorens on the 5th February 2006 for 1 weeks skiing. Our party consisted of 3 adults and one child. I bought full 3 valley lift passes for us all for a total of 856.50€. As we had a car with us we thought that one day we would go over to La Plagne for a days skiing. I was advised in a book called "Where to ski and snowboard 2006" that it would be possible for 1 day for free under our 6 day 3 Valley lift passes. This we did on the 7th February.
Unfortunately, when we finally got to the front of the lift queue at La Plagne our passes were rejected and I had to go to one of the lift pass offices in La Plagne to find out what the problem was. Here I was advised that I should have brought some kind of paperwork with me in order to get a free days skiing. I didn't know I had to have this paperwork and consequently didn't have it on me. The woman behind the counter advised me that this was okay because if I paid for a days ski passes I would be able to get the money back if I went to the Val Thorens Setam office and told them what had happened and gave them a copy of the receipt that she gave me. Consequently I paid 100€ to her.
The next day I went to the Setam office as directed, told them what had happened (I spoke to a woman called Corinne) and gave them the receipt. Corrine finally agreed that they should pay me 88€ as they didn't think they should pay the 12€ card loss insurance I had bought. This I agreed to. Corrine took my address and said they would send me a cheque for 88€. I have yet to receive this, despite numerous e-mails asking for it. I don't think I'm ever going to get it.'
That sounds like a pretty annoying and relatively expensive experience. I think Brian was probably mis-sold the insurance. Remember to ask what these extras are as you may already be covered, especially when purchasing with a credit card.
It is obviously worth checking very closely what the guest resort requires in the way of documentation. The problem may lie with Val Thoren's handsfree lift pass system. This encodes data such as the user's photograph onto a chip stored in the card. If the guest resort cannot read this information you may need some supporting documentation to prove the lift pass is yours.
Val Thorens is part of the Espace Olympique which gives you access to Val d'Isère, Tignes, la Plagne, les Arcs, Pralognan la Vanoise and les Saisies. One bit of advice, when dealing with French bureaucracy the fax and recorded delivery letter are much better than eMail.

Posted by on Thursday, 08 June, 2006 at 11:28 PM
Comments are now closed