Entropy
en•tro•py noun: Inevitable and steady deterioration of a system
It is like that shock you get on your high school 20 year reunion. Are those people really my school friends or are they the teachers… or parents? But this was just a fortnight's absence from the slopes. Two weeks ago the temperatures had become unseasonably warm but with clear skies at least they dropped below freezing once the relentless sun dipped below the horizon. Even if the snow at altitude was poor, the worst for 30 years above 2000 meters according to the French Weather service, we still had a massive stock in mid-mountain areas to give excellent spring ski touring straight from the trailhead.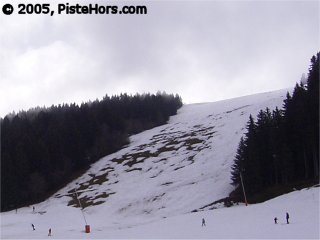 Order into chaos
Then down came the rain. In a few days it penetrated to the base of the snow pack. With this extra load of water, at 1500 meters a cubic meter of snow approached 600kg weight, the snow pack simply slid off any steep or grassy slopes. With poor snow at altitude, especially at altitude our hopes of an excellent touring season were ruined. Ski mountaineering events such as the Ski Ecrins Alpinisme have been cancelled as a result.
Ski resorts, with good piste management, have faired a bit better but the positive temperatures have left their snow canons idle. In the case of Pra-Loup, lack of any significant precipitation finally lead them throw in the towel before Easter and close the two remaining muddy runs leaving holiday makers stranded. For the other resorts it is now a question of getting to the end of the holiday period then reviewing the situation. It has been rumoured that la Plagne, amongst others, may close a week before schedule. On a positive note, at least it is now snowing above 2000 meters.
Posted by
davidof
on Tuesday, 29 March, 2005 at 06:00 PM
Comments are now closed