Dynafit Aero TF
With the success of the Garmont Megaride and Adrenalin every ski boot maker wants to have a "freeride" type boot in their stable these days. Dynafit's Aero TF is the Austrian manufacturer's initial response to this market and a departure from its core ski touring market. Eagerly awaited last year it has now been on the ground for the best part of a season so we decided to take a closer look.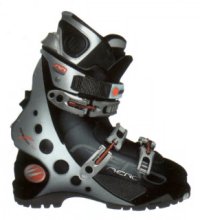 The Aero TF is comes in snazzy silver and black plastic using state-of-the-art double injection and is equipped with three aluminium buckles and an adjustable spoiler. Dynafit says that the Personal-Fit system adapts the boot to all foot shapes with no pressure points and claims that blisters will be little more than a bad memory. The feedback we have had from shops and users is that the Thermoformable inner boot does not adjust well to all foot types. If the boot is uncomfortable in the shop before thermoforming it will probably still be uncomfortable afterwards.
Prior to the launch Dynafit made some excellent weight claims for the Aero… 2900 grammes for a pair in size 42. However it seems this was some kind of computer prediction, the Aero TF with a lightweight thermoformable liner tips the scales at closer to 3500 grammes. Dynafit have now updated their literature but this was a big disappointment for people who had eagerly awaited this boot. The three buckle boot is probably too soft for aggressive skiers using big mountain boards and some users still prefer the traditional Dynafit TLT.
So another case of wait and see for ski mountaineers. Dynafit have gone back to the drawing board to completely redesign the Aero TF for the 2005/2006 season and will launch both men's and women's versions to better accommodate different feet morphologies. A heavier four buckle version will be available to better address the backcountry freeride market.
Posted by
davidof
on Wednesday, 06 April, 2005 at 10:19 AM
Comments are now closed