Body of missing skier found in Belledonne
The body of a ski mountaineer was found this morning after a search by rescue workers in the north of the Belledonne mountains in an operation that began late on Saturday evening. The man had apparently fallen 200 meters over cliffs after slipping on icy snow at around 2,500 meters altitude.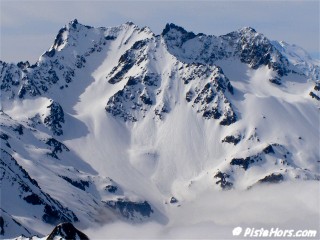 The Pic du Frêne
The vicitm, Jean-Pascal Gachet, was head of the the Sports and Animation section of the Savoie General Council. A resident of La Féclaz in the Bauges mountains he had just summited the Pic du Frêne (2807 meters) on Saturday morning when the accident happened It was supposed to be the last outing before his skis were stored for the summer. The alarm was given when he failed to return home. He leaves a wife and three children.
The Pic du Frêne is a difficult mountain to reach on skis but the tour du pic du Frêne, accessed from Saint Remy in the Maurienne valley and the chalet de la Lescherette offers a route of around 2000 vertical meters. The recent snow and avalanche bulletin has warned of very icy slopes close to ridges and on shaded slopes.
On Friday a 20 year old climber died as the result of a fall after slipping at 3,500 meters on Mont Blanc, his friend was seriously hurt in the accident. The search operation located the men on Saturday morning.
Posted by on Sunday, 11 June, 2006 at 04:18 PM
Comments are now closed