Chamonix Freeride Days – 10th Anniversary
This Sunday is the 10th anniversary of the Chamonix Freeride Days. It is hard to imagine that the season is nearly over. The freeride days will be held at Grands Montets. The organizers want to settle the question, who is the better skier, downhill or freerider? Now we know that downhill skiers have the technique but can they ski off the groomed corduroy? What about freeriders, all speed and no skill?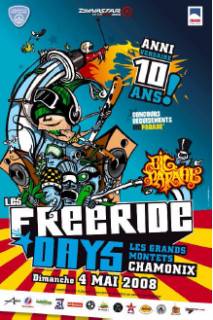 Amongst the competitors are
Kjetil Andre Aamodt – most medals for an alpine skier
Guerlain Chicherit – 4 times world freeride champion
Jean-Pierre Vidal – Olympic slalom champion
Aurélien Ducroz, the Diet brothers (back on form), Steve Missillier, Yannick Bertrand and many others, even you if you can put a team of three together.
The principal is simple. Teams of three – skiers or snowboarders will duel it out in a giant slalom relay. The first team down goes through to the next round. Entry is on the day and limited to 64 teams.
In partnership with Dynastar the organizers are also holding a photo exhibition of the best shots of the season, both professional and amateur as well as artwork painted over the weekend. The artwork will be sold at auction to help fund ecological programmes in the Mont-Blanc range.
The freeride days will also have the classic swimming pool run, snowpark and fancy dress competition.
Posted by
davidof
on Wednesday, 30 April, 2008 at 09:49 AM
Comments are now closed