This is a scan of the letter currently being sent to French users of the Ortovox F1 Plus (sorry about the poor quality of the scan).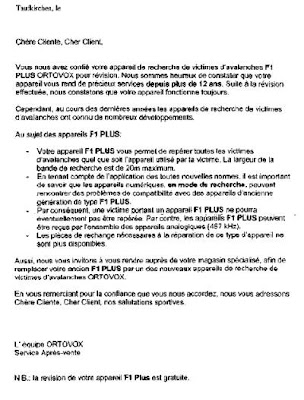 To translate the important points:

Over the last few years avalanche beacons have undergone a number of developments.

Related to the F1 Plus

* Your F1 Plus allows you to find all victims no matter what beacon they are using. The search strip width is 20 meters max.

* Bearing in mind the new standards. It is important to understand that digital beacons in search mode may have compatibility problems with old models such as the F1 Plus

* As a result someone wearing an F1 Plus may possibly not be detected. However F1 Plus can be detected by all analogue avalanche beacons working on the 457kHz standard

*Spare parts for this beacon are no longer available

We therefore advise you to replace your F1 Plus with a new Ortovox avalanche beacon

Ortovox, Taufkirchen

It seems clear that Ortovox[1] is concerned about compatibility issues with analogue and digital beacons, which was the main point of our article:
http://pistehors.com/news/ski/comments/0805-time-to-retire-the-ortovox-f1/
As you will see from the article we suggest just that digital beacon users be aware of the issues outlined in the letter above. Far from spreading misinformation this seems like an important safety advice.
[1]I'm assuming this letter is an official Ortovox communication and has not somehow slipped into the After Sales service chain by error. In any event it seemed to correspond to information published in English on the Ortovox website which suggests that the F1 Plus is no longer serviceable. It doesn't seem unreasonable that beacons manufactured in the early half of the 1990s are now obsolete, you wouldn't keep an IPod that long. This seems more like a case of solid and loyal service rather than an attack on the quality of Ortovox products and we thought this letter was useful information from your company which was obviously taking safety issues seriously. For the record I use an Ortovox beacon.
I've updated the original article to remove the term "obsolete" from the original article bearing in mind the new information you have posted here. Many thanks for the update.
Posted by
davidof
on Tuesday, 19 February, 2008 at 09:52 AM
I have an FI focus Ortovox
Is it worth getting it serviced? How much does it cost
thanks for your help
Posted by on Sunday, 06 February, 2011 at 02:58 PM
It is worth gettng the F1 serviced every 5 years or if you detect some kind of problem when you do group checks (lack of range for example would be a sign of frequency drift). You will need to ask an F1 dealer about this, probably the thing to do at the end of the season unless you suspect a problem with your F1.
Posted by
davidof
on Sunday, 06 February, 2011 at 08:33 PM