Avalanche Days 2007
The ANENA (French National Association for the Study of Snow and Avalanches) is organising its a new set of "avalanche days" this autumn. The road show will visit Toulouse and Pau in the Pyrenees on Saturday 10th and Sunday 11 November, Gap in the Hautes-Alpes on Saturday 24th November and Albertville in the Savoie on Saturday 15th December.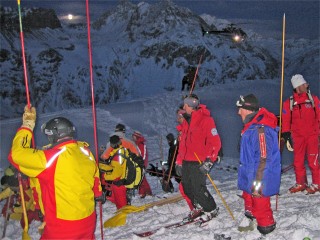 The Gap day covers level 1:
* Snow and Avalanche, what is an avalanche, why do the occur and what triggers them, what are the snow and weather and topographic factors that favour avalanches?
* Human factors: what behaviour should you adopt on the ground to minimize the risk, how do you choose a route?
* Decision making: how to you read the avalanche bulletin, what questions should you be asking yourself?
* In the event of an accident: What are the different devices for search and rescue, what are the advantages and disadvantages, how should you respond to an incident?
Toulouse and Pau already saw level 1 courses in 2005 and at Albertville the day will take things to the next level. These seminars are aimed at people with prior knowledge. Like at Grenoble last year the programme is more hands-on, concrete and interactive. It will involve eye-witness accounts and case studies.
* Applied avalanche prediction and slab avalanches, metamorphosis and weather conditions / trigger mechanisms for slab avalanches
* Human factors: heuristic traps, complacency, familiarity etc, eye witness accounts
* Route finding : choosing the best route with examples and eye witness accounts
* Avalanche rescue: a case study of a real rescue coupled with interactive scenarios
Further information about these "avalanche days" are available on Web:
http://www.anena.org/savoir/conf_stage/jfa_2007/jfa_presentation_07.html.
The presentations are in French.

Posted by
davidof
on Monday, 22 October, 2007 at 09:52 AM
Comments are now closed