The Trilogy: 17,000 vertical feet on skis and bikes in a day
Ski tourers like to pride themselves with their green credentials. After all they ski where the snow falls naturally and don't use energy consuming lifts, earning their turns in the process. Is all this self congratulation justified? A recent survey by the French website Skitour showed that out of over 300 participants over a third were prepared to drive more than 160 km to go skiing.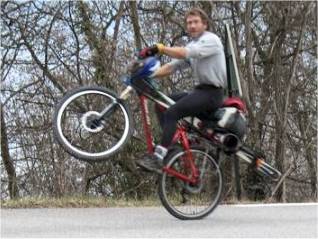 Wheelie hard!
With snow thin on the ground in 2007 the real figure is probably even higher with many skiers covering closer to 200 km in order to get their snow fix. That's around 12-16 liters of fuel burned with the fumes going into the same pure mountain air that the skiers are seeking.
This got a group of Grenoble based mountain bike and ski fanatics thinking whether there is a better way and so The Trilogy was born. The idea, to link the three closest summits to Grenoble, the Croix de la Chamrousse (2253m), Chamchaude (2082m), and the Moucherotte (1901m) and by ski and bike. All these summits are popular destinations with local skiers.
While not expecting everyone to follow their example they wanted people to think, "do I need to use my car for my next trip ?" be it skiing or a visit to the local shops.
The group met last Saturday at Gieres (210m) at 4h15 for the climb to Chamrousse. The town has some historical resonance for it was the home of Henry Duhamel who introduced skiing to France. Back in the 1880s skiers would take the tram to Uriage then climb on foot to Chamrousse for a single descent.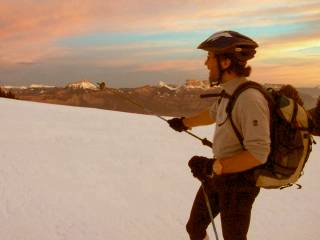 Next stop, Chamchaude
The trio completed the odyssey in 18 hours with the Moucherotte. They had covered 160km, similar to a third of the respondents to the Skitour survey, 130km of them on bikes. That included 5600 meters of climbing on bikes and skis at an average of 520 meters/hour. For fuel each participant consumed 8 energy bars, 8 liters of water, a beer (this is France) and 1.5kg of sandwiches. The biggest obstacle, cars going too slowly!
On a similar theme Mountain Wildnerness France and Camp 2 Camp have launched a competition called "Change your approach". The idea is that ski and snowboard tourers should use public transport to access the mountains with the most novel trip winning. The competition is limited to France where public transport is poorly developed and not widely used by ski mountaineers.
Many thanks to Seb for the information and photos.

Posted by
davidof
on Friday, 23 February, 2007 at 03:14 PM
Comments are now closed