Learning ski touring
I want to start ski touring this winter and have looked into doing an introductory weekend with Chamex and Icicle in Chamonix. Do the PisteHors readers have any thoughts and suggestions about the best way to go about learning to tour?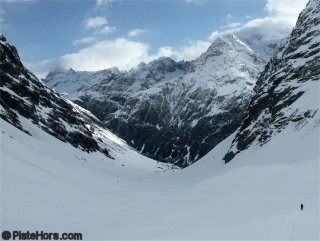 First off Chamex are a really sound company founded by Russell Brice who, apart from teaching mountaincraft and ski touring has lead many people to Himalayan summits. Marco Siffredi being one of his more famous clients on his successful expeditions. I've been in touch with Chamex and find them to be pleasant and professional. I don't know so much about Icicle but the website is informative and professional and that is often an indication of a serious, well run company.
I would be interested how other people got into touring. I was introduced to the sport in 1991 by a mountaineer friend called Steve Hinde. A pleasant and very knowledgeable chap who had the time and patience to pass on some of his knowledge. I didn't take touring that seriously concentrating on off-piste largely because the equipment was not great at the time (2 buckle Koflach boots and straight skis) which often made skiing difficult if not unpleasant for most skiers except in good conditions.
Touring was something we did at the end of the winter when the days were long and warm and the snow almost perfect. I think friends and club groups are still a good way to learn but you have to differentiate between people who are very good skiers and people who have very good mountain skills.
The problem is that friends/clubs may not be able to adapt to your level and pace of learning and may not have the knowledge to correct problems with technique early on. That's where a week's skiing with a guided group can be a great way to learn. A guide will have had to go through rigorous training and exams and will attend courses to keep his knowledge up to date. He should teach you the state of the art in mountain craft not just hearsay learned from other skiers.
Regarding ski technique, there are people who have learned to ski entirely through ski touring. They have never taken a ski lift in their lives. The big disadvantage is the amount of vertical you can cover. In an intensive day's lift served skiing you can do 10,000 meters or more, something a serious, alpine based, ski tourer may cover over the course of a month. Good piste technique transfers over to the variable conditions found touring. I think mogul skiing can be a useful skill when it comes to negotiating the many mountain tracks and woods found at the bottom of European ski tours. If you intend doing any couloir skiing then it is worth practising steep technique training with an instructor on piste. The great thing is you don't need a big, expensive resort to improve these skills and often the small ski areas provide the less than perfect runs to work on drills.
If you intend just doing touring then I would suggest using some lightweight mid-fat skis with Dynafit bindings and a good three buckle touring boot such as the Garmont Megaride, Scarpa Matrix or Spirit 3. You don't want skis that are too wide as it will mean that when following other skiers you will always be making your own tracks, which is very tiring. Fat skis are also less sure on icy traverses. 75-80mm underfoot is probably a very good compromise between floatation in powder and width. Skis for touring are generally taken shorter than their off-piste brethren. This is especially important when making kick (conversion) turns to zigzag up steep slopes and when skiing narrow couloirs and woods.
If you intend doing resort skiing with the same set-up then the Dynafit or Silvretta Pure bindings offer the step-in and out convenience of alpine bindings. Of course you can even tour with a pair of cheap snowshoes carrying your downhill skis on your backpack.
Regarding mountain skills two new books are of interest. "Snow" and "Avalanche" by Robert Bolognesi. These are translations of French books. Avalanche has Bolognesi's risk reduction method (NivoTest) developed with the French avalanche research institute. Nivotest is a series of 25 questions to ask before you head out on a given ski tour. If you reach a certain threshold the level of risk is deemed to be unacceptable. While all these reductions methods (such as Munter) can appear to experienced skiers to be overly conservative they do get you into the way of thinking about the factors that lead to avalanches and why one route may be better than another. Having a systematic approach means that you don't miss anything, a factor that researchers such as Ian McCammon says is a factor in many avalanche accidents involving experienced groups.
Apart from that the most useful advice I can offer from experience is that if a slope looks suspect it probably is and always fit ski crampons sooner than you think.
Further Information
Posted by on Wednesday, 06 December, 2006 at 03:48 PM
Comments are now closed