Sexy Shovels and Probe
It is hard to imagine how technology as mature as the humble snow shovel and avalanche probe could be developed further but next season will see a number of interesting developments. It is also curious how manufacturers come up with very similar developments at the same time. Anke von Birckhahn representing Black Diamond told PisteHors.com that it was down to designers looking for solutions to current problems. We like to think of Alias like industrial espionage.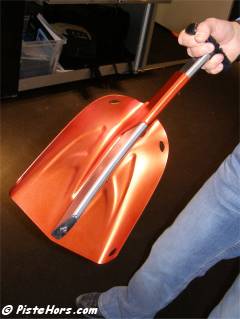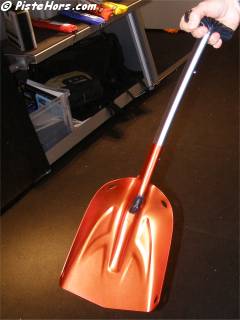 Black Diamond Deploy… deployed
Whatever the truth Mammut, Black Diamond and Nic-Impex are all marketing ultra compact avalanche shovels. Nic-Impex had a design featuring a telescopic handle for better leverage when shovelling avalanche debris, or the snow from the driveway. In some ways it is a return to army style "pioneer core" shovels we used back in the 80s but with an emphasis on digging performance. One big advantage of integrating the handle and blade is that the two should not become separated and lost.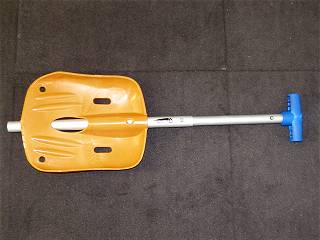 Nic-Impex compact shovel
What characterises the Mammut Raptor, Black Diamond Deploy and Nic-Impex shovels are handles that slide into the blade to save space. The Raptor has won the Volvo Active Safety award in conjunction with Barryvox Pulse avalanche beacon. It has a strong oval shaped handle and its "D-grip" at the top of the blade helps shovelling power and efficiency. The blade can be used as a snow anchor. Both Nic-Impex and Raptor use man-made materials for the blade. We like metal shovels. Nothing beats them for cutting through ice. The BD Deploy has a curved handle, this means it can slide over the blade and also means that the shovel shouldn't spin round when digging.
Ortovox and Nic-Impex have addressed the problem of assembling collapsible avalanche probes quickly. Using clever joints and a quick locking cord the user simply has to flick the parts open then pull tight on the cord lock, all in a single operation.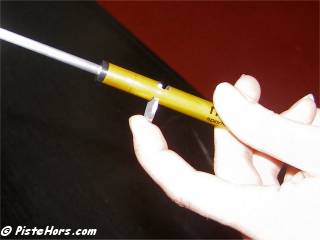 Probe locking mechanism
AvaLung Equipped Backpacks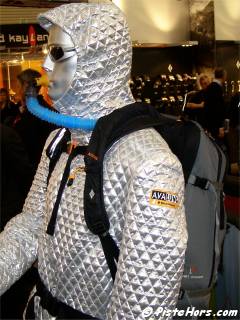 AvaLung Backpack
New for the 2006/7 season is the Black Diamond AvaLung™ equipped backpack. BD have backpacks in 42, 32, and 22 litre sizes.The packs integrate the AvaLung into the shoulder strap and pack body. The AvaLung expels used air from the rear corner of the pack increasing the time a victim can breath to well over an hour (assuming they have survived the slide).

Posted by
davidof
on Sunday, 17 September, 2006 at 11:48 AM
Comments are now closed