Divide and conquer?
Snowboarders are not well catered for when it comes to reaching the backcountry. The most popular choice is to climb on snowshoes or even mini skis with the board lashed to the back of the rucksack. A heavy rucksack is not ideal aid for carving fluid lines in deep powder. Back in the mid-90s Voilé had the idea of cutting a snowboard in half to use it as mini skis for climbing. The two halves would then clip together for the descent. The split board was born.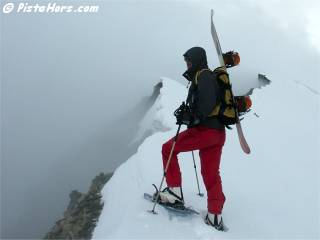 Since then a select but small band of manufacturers have followed in Voilé's tracks: Burton, Duotone and Prior but the idea has not proved that popular. Now backcountry boarders have another choice: the Venture Divide. This board uses the proven Voilé binding system and was developed with help from pro-mountain guides to provide a solid ride both climbing and snowboarding. Every board is hand built in Colorado. The Divide core features additional ash wood stringers to enhance the torsional stiffness, something that has been lacking with some splits. A moderate taper and stance offset mean that it is fun to use in even the deepest powder.
Venture is committed to the environment building their boards with sustainably harvested wood and they offer a full recycling programme. Top sheet options include organic cotton and hemp (hmmm…. no surprises there) which help reduce the use of plastics. As Venture themselves say, they are small steps, but steps in the right direction none-the-less.
The cost of the bare board is $675 with climbing skins and binding mounts sold separately. The board is guaranteed against defects in materials and workmanship for 2 years. Unfortunately Venture do not yet have any dealers outside of North America.
Further Information
http://www.venturesnowboards.com/

Posted by
davidof
on Sunday, 10 September, 2006 at 11:43 AM
Comments are now closed