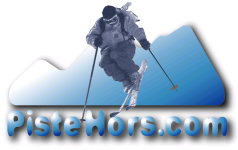 Posted on: 2020-02-01 22:26:16 by davidof
Savoie on orange alert for avalanches
Meteo France has put the departments of the Savoie and Haute-Savoie on orange alert for avalanches and has warned that with the heavy rain and thaw on Sunday that infrastructure could be affected or roads with avalanche couloirs.
"The snow-pack is deep at altitude and the upper layers of recent or windblown snow are not well consolidated. Stabilization has begun, particularly below 1800-2000 meters, locally higher by humidification due to the thaw accompanied by light rain during Saturday afternoon. The risk of natural avalanches will increase rapidly during Sunday and become High due to the temperatures and renewed rainfall".
Almost all mountain ranges in the area are at risk 4/5 (HIGH) from midday Sunday. Meteo France predicts between 20 to 40 mm of rain on Sunday with the zero isotherm around 2500 meters, perhaps higher. The avalanche risk is Considerable to High across the Isere but the danger is less pronounced due to a thinner snow-pack and less rainfall, up to 20 mm during Sunday afternoon. The situation should stabilize somewhat with a return to cold weather on Tuesday.
Comments