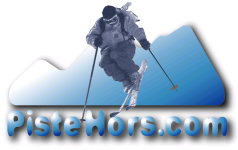 Posted on: 2021-03-15 22:03:41 by davidof
High avalanche risk in the Northern Alps
Meteo France has issued the following warning for the Northern Alpes:
Increasing avalanche risk over the coming hours. Backcountry travellers are advised to take great care and consult the avalanche risk forecast bulletins on the Météo-France website or mobile apps.

Since Saturday March 13th winter has made a marked return in the Northern Alps with light and cold snowfall down to low altitude. On Monday at the beginning of the afternoon, above 2200 to 2400 m altitude, there is nearly 1 meter of fresh snow on the Beaufortain and Vanoise mountains, in the Aiguilles Rouges and Mont Blanc; 50 to 70 cm at an altitude of 1000 m, over the large western part of the northern Alps (from Vercors to South Chablais via Belledonne, Chartreuse, Bauges, Beaufortain, Aravis, West Vanoise-Lauzière and North Tarentaise).

By Tuesday morning another 10 to 30 cm of additional light snow is forecast. The strong northwesterly to north wind favours the creation of new snow slabs.

Attention, during the day of Tuesday, the avalanche risk will remain high (level 4) on all the massifs of the Northern Alps: spontaneous avalanches can still occur and especially the newly formed or forming snow slabs, sometimes hard to spot due to the powdery appearance. They can be easily triggered by the passage of a single skier or hiker, and carry large volumes of snow even at low altitudes. The recent and windy snow cover will remain very poorly stabilized even if there is a lull in the bad weather

The greatest caution is therefore recommended to hikers.

For more details, consult the avalanche risk estimation bulletins on the Météo-France website https://meteofrance.com/meteo-montagne/alpes-du-nord/risques-avalanche or on the apps for smartphone.
Comments