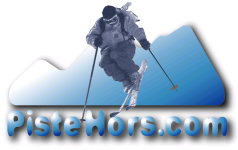 Posted on: 2021-02-21 22:33:16 by davidof
Ski tourer killed by avalanche on closed Les 2 Alpes ski piste
A 27 year old ski tourer, local to the area, has been killed climbing below the North side of the Col des Gourses (2550 meters) in the Deux Alpes ski area by a slab avalanche. The resort is closed for piste skiing due to Covid measures and the slope was neither prepared nor avalanche controlled.

The alert was given at around 14h30. His companion, who was some 100 meters lower down was able to find his friend using his avalanche beacon. The victim was buried under 60 to 80cm of snow for around 15 minutes. His friend had already uncovered the victim's head by the time mountain rescue services arrived at the scene. Heliported in a critical condition to hospital in Grenoble he succumbed to his injuries later in the evening.

The avalanche, a hard wind slab, triggered on a 35° rollover on what is normally the top of the Pierre Grosse blue ski run. The avalanche risk was 2 in the sector. The bulletin noted the risk of wind blown snow and slabs at altitude, principally above 2300 meters on cold slopes (NW to E) formed by the southerly wind. Slabs that are not that sensitive but could potentially be triggered by a single skier.




Location
Comments