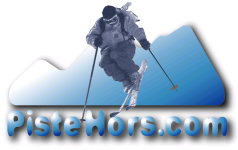 Posted on: 2019-12-24 07:38:21 by davidof
Savoie on avalanche alert
The Savoie and Haute-Savoie prefectures have warned backcountry travellers of a dangerous avalanche situation in all the mountain ranges of the departments for Tuesday 24th December. There has been nearly 2 meters of snow in the Mont-Blanc area over the last 3 days at altitude.

The risk of avalanche is High, level 4 out of 5. Snowfall that began on Friday evening in Savoie has rendered the snowpack very unstable. The fresh snow often rests on a layer that is poorly consolidated at 80 to 100 cm. There will be a rapid thaw during the day on Tuesday with rain to 2000m and and snow higher up This new precipitation will maintain the risk of spontaneous avalanches, some very large, over the whole day.

Given these weather conditions the prefect has called for caution. Skiing off the marked and open slopes is not recommended. Closed pistes must not be used. There have been large spontaneous avalanches outside of open ski areas in the Haute-Maurienne and Haute-Tarentaise, fortunately without damage.

Comments