Snowboarder killed by la Grave fall
A German snowboarder was killed at the ski area of la Grave yesterday after falling over a 40 meter cliff band near the Vallons de la Meije route. It appears that the 26 year old boarder had become disorientated. A high mountain guide alerted rescue services after seeing tracks that stopped abruptly at the top of cliffs. The civil security rescue helicopter took a rescue team and doctor from Alpe d'Huez where they attempted to resuscitate the victim without success.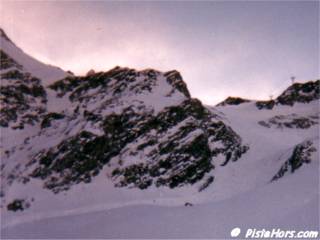 Trifides couloirs and the Vallons de la Meije
Although almost entirely off-piste and skied at the users own risk La Grave has considerable improved the marking of dangers following a judgment by the Marseille administrative court in April 2004. The court trial had heard how a young snowboarder had fallen to his death after falling tracks in the resort in December 1996 and found that the mayor was responsible for signposting dangers. A 1988 court case, also involving la Grave said that the resort had an obligation to take measures to inform clients of dangers appropriate to the circumstances. The resort now employs a patroller to inform clients of the risk.
Further Information
Serious Judgement for la Grave

Posted by on Thursday, 23 March, 2006 at 09:52 AM
Comments are now closed